BofAML: Last Month's Sell-Off Means Markets Stand at a Crossroads
Watch what happens after the Federal Reserve meeting this week.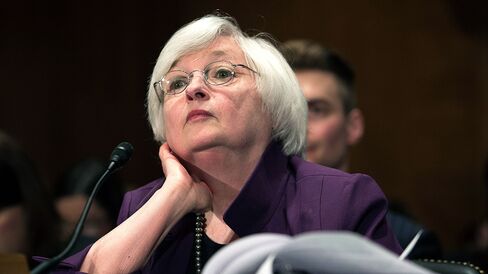 How big was the rush for the exit during last-month's market sell-off? Pretty darn big.
The below, from Bank of America Merrill Lynch's fund manager survey, shows the change in large investors' positioning as of Sept. 15, from Aug. 15. During this time, investors sought the relative safety of bonds and cash while cutting positions in stocks and commodities to 2008-like levels.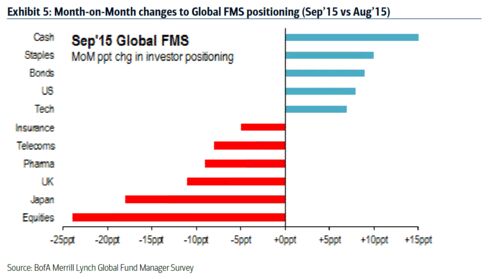 It's a partial reversal of a summer trend that had seen survey respondents holding high levels of cash while also being quite optimistic about the global economy. Cash positions remain elevated—in fact, they reached the highest level since the collapse of Lehman Brothers—but optimism has fallen off a cliff.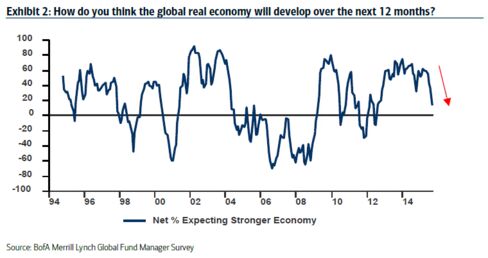 The BofAML team, led by Michael Hartnett, sees two paths ahead if the Federal Reserve indeed stands pat on interest rates this week. The first would be a rally in the stock market, while the second would be the market continuing to decline or equities simply treading water. The absence of a rally would present an ominous sign, according to the note.
Unambiguous pessimism means risk assets riper for a rally (note investors don't want a Fed hike this week). If no rally, then markets ominously hinting "recession" and/or "default" imminent.
With both Bloomberg surveys and BofAML's fund manager survey placing a 30 percent or less chance of a rate hike this week, it seems likely that we'll soon be able to see which path markets take.
Before it's here, it's on the Bloomberg Terminal.
LEARN MORE