Weakest Swiss Franc in 8 Months Gives Limited Relief to Industry
Exchange rate of 1.10 francs per euro cited as `magic number'

Lobby groups say franc is still too strong for industrials
The franc's drop to its weakest level versus the euro since Switzerland's central bank abandoned its currency cap will offer some relief to the industrial sector. Still, lobby and labor groups warn that the struggle to remain competitive is not over.
Swiss companies, notably Sonova Holding AG and Zehnder Group AG, have reduced working hours, cut jobs and even moved production abroad to relieve pressure on their margins and remain competitive after the Swiss National Bank abandoned its franc ceiling of 1.20 per euro on Jan. 15.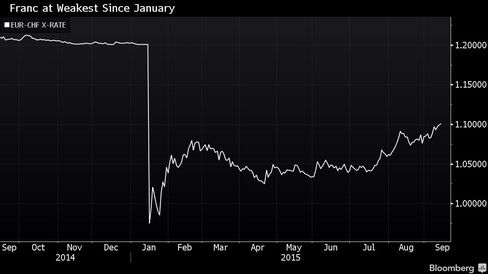 The Swiss currency, which surged as much as 41 percent following the SNB's decision, has weakened in recent weeks and hit a level of 1.10 per euro on Friday. The franc traded at 1.09753 at 12:12 p.m. in Zurich on Monday.
"For most, this will be enough to muddle through," said Oliver Mueller, director of Swissmechanic, an association for small and medium-sized businesses in the machinery sector. "But it will still be a big struggle to generate enough orders to invest and innovate."
A strong franc makes Swiss goods more expensive abroad, a problem for companies that have a high local cost base. As evidence of the impact, foreign orders to the machine, electrical and metals industry dropped almost 17 percent in the first half of 2015 from a year earlier, according to Swissmem, the sector lobby group. A level of 1.10 would be "palatable" to Swiss business, Finance Minister Eveline Widmer-Schlumpf said in the aftermath of the SNB's shock move.
Some hope the franc will be even weaker. Economy Minister Johann Schneider-Ammann, who previously headed the Swissmem, told Bloomberg Television last month that he sees the fair value at 1.22 per euro and that companies are battling to survive.
A Swissmem survey showed that more than a third of companies in the machinery sector are expecting an operating loss for 2015 despite the slight recovery of the franc.
Too Late
"It is a positive development for Swiss industrial companies that the euro appreciated over the last months and reached again the 'magical level' of 1.10 francs," said Sascha Beer, a partner in PricewaterhouseCoopers' Corporate Finance division. "It remains to be seen if this is a sustainable development and if the revaluation of the euro is a trend that continues in the coming months."
The fall in the currency has come too late for some. Swiss trade union Unia estimates several thousand jobs have been axed since the end of the cap, particularly in the industrial sector.
While the seasonally adjusted unemployment rate hardly budged, the number of people participating in the government's reduced working hour program "Kurzarbeit" more than doubled between January and June, according to official statistics.
"Of course, 1.10 is better than 1.05, but even at this level the franc is still too strong and Swiss industrial firms will find it difficult to be competitive," Unia spokesman Pepo Hofstetter said. "Their problems have not been solved."
Before it's here, it's on the Bloomberg Terminal.
LEARN MORE