Turnbull Victory Could See Hockey Ousted as Treasurer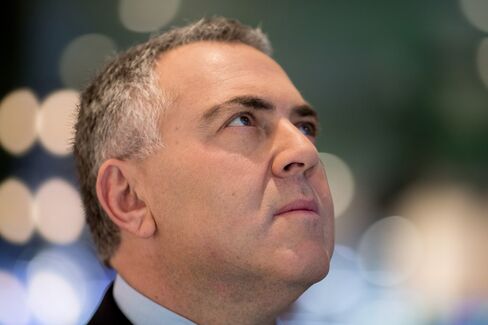 Treasury chief warned not to put reform in `too hard' basket

Australia's economy recorded anemic 0.2% growth last quarter
Malcolm Turnbull's victory over Tony Abbott in a leadership vote to become Australia's next prime minister could see the removal of Treasurer Joe Hockey, whose stewardship of the economy has drawn criticism.
Under Hockey, unemployment reached 12-year high and business investment in the second quarter was the weakest in four years. Yet the treasurer has been reluctant to push ahead with major structural reforms that business leaders say are needed to foster growth.
"The perception is Hockey isn't competent, he's mishandled the portfolio, and someone else will do better," said Annette Beacher, head of Asia-Pacific research at TD Securities in Singapore. "Unfortunately, Joe Hockey, time and time again didn't come across as someone who was able to convince people that tough measures were required."
A spokeswoman for Hockey didn't immediately respond to a request for comment.
Speculation on who might replace Hockey has centered on current Minister for Social Services Scott Morrison.
"Clearly Scott Morrison is anticipated to be the new treasurer, I don't think there's any news flash in that," Steven Ciobo, a parliamentary secretary for foreign affairs and trade, told Australian Broadcasting Corp. television late Monday," Ultimately that will be determined by the prime minister in consultation with Julie Bishop."
The government's economic message became increasingly confused during Abbott's two years as prime minister.
Budget Messaging
Hockey initially called for an end to "the age of entitlement" and his first budget in May 2014 sought to slash spending. As the unpopularity of that program became more politically problematic, Abbott and Hockey ditched many of the planned cuts and delivered a "dull" second budget. Indeed, Abbott said fiscal problems that he called an emergency prior to his election were now manageable.
The government has also struggled to push ahead with reform. Contentious policies were sent to review committees while Hockey and Abbott signaled that changes in taxes, labor relations and pension savings would be unlikely before elections due late in 2016.
Too-Hard Basket
Hockey's top economic bureaucrat warned last month that reforms like increasing competition shouldn't be put in the "too hard" basket and left to another generation.
Australia's economy expanded just 0.2 percent in the second quarter from the first three months, and was saved from a contraction only by an uptick in defense spending. Yet, the government has relied on a record-low benchmark interest rate of 2 percent to support growth.
Hockey's analysis of the second-quarter national accounts was at odds with that of analysts. "Weak," "surprised on the low side" and "well below trend" were the verdicts of economists at Commonwealth Bank of Australia and Westpac Banking Corp., the country's biggest lenders. Hockey said the result showed the economy "is growing well" and the government's economic plan"is working."
Gaffe Prone
Hockey has been gaffe prone since assuming his role after the Liberal-National coalition won office in September 2013.
Following the 2014 budget, he was forced to publicly apologize after he said a proposed increase in fuel tax would hit higher-income earners harder because "the poorest people either don't have cars or actually don't drive very far in many cases."
Turnbull attacked the government's economic mismanagement as he announced his challenge on Monday.
"Ultimately the prime minister has not been capable of providing the economic leadership our nation needs," Turnbull said. "He has not been capable of providing the economic confidence that business needs."
Hockey countered, saying Turnbull had never "said to me or to the Cabinet that we are heading in the wrong economic direction."
"We have an economic plan that is being delivered and is working," Hockey told reporters Monday.
Before it's here, it's on the Bloomberg Terminal.
LEARN MORE