Toshiba Drops After Loss on Slumps in PCs, TVs, Power Gear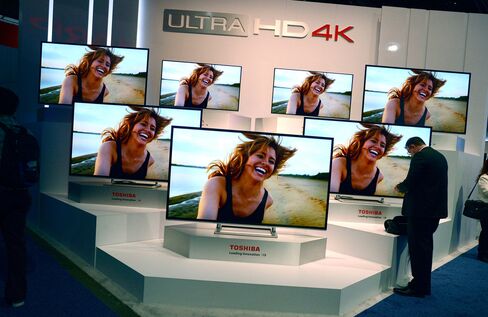 Toshiba Corp. dropped in Tokyo trading after posting a net loss for the first quarter on slumps in televisions, personal computers, energy equipment and infrastructure projects.
The industrial conglomerate fell 1.8 percent to close at 309 yen. The net loss was 12.3 billion yen ($102 million) for the three months ended June, the Tokyo-based industrial group reported Monday in a statement.
President Masashi Muromachi this month pledged a "bold restructuring" of its chipmaking and lifestyle divisions after reporting an annual loss and restating six years' worth of earnings. Toshiba is releasing its second earnings report in as many weeks after delaying results amid an accounting scandal and has said it plans to give a full-year forecast in October.
"The firm is likely to face extremely tough earnings," Yukihiko Shimada, an analyst at SMBC Nikko Securities Inc. wrote in a note to clients. "There has been deterioration in the business climate, including a slowdown in the Chinese economy." Shimada has suspended ratings on Toshiba because "it is hard to come up with rational earnings forecasts."
Sales were 1.35 trillion yen for the three months ended June, the lowest since the quarter ended December 2012.
Alert Posting
Toshiba shares were put on alert by the Tokyo Stock Exchange starting Tuesday because trust in the company was damaged by the accounting irregularities. The exchange fined Toshiba 91 million yen for the accounting problems, Japan Exchange Group Inc., which operates the bourse, said in a statement Monday.
Companies put on alert post are required to submit an improvement report to the exchange before being removed from the list. Olympus Corp. was put on alert after its accounting scandal in 2011.
Toshiba shares have dropped 40 percent this year, compared with a 3.9 percent gain for the Topix index.
On Sept. 7, months after the initially scheduled filing, Toshiba reported a net loss of 37.8 billion yen for the 12 months ended March, compared with revised net income of 60.2 billion yen a year earlier.
The industrial group has set aside 8.4 billion yen to cover possible fines related to the accounting irregularities.
Investigations by the financial regulator into Toshiba's financial records will continue, Japan's Chief Cabinet Secretary Yoshihide Suga said on Sept. 7. The company's failure to provide correct information was "a big problem," he said.
No charges have been filed and the regulator has yet to impose any fines.
Before it's here, it's on the Bloomberg Terminal.
LEARN MORE