Paying Less in Slump Lifts Morocco Above Oil-Pumping Neighbors
Falling prices help government dismantle popular gas subsidies

Infrastructure spending pays dividends as Peugeot, Ford invest
Tumbling oil prices have helped Morocco shore up public finances and lure investments, in contrast to countries from Saudi Arabia to Jordan struggling with rising budget deficits and slower economic growth.
Dismantling a costly energy subsidy program -- politically more difficult when prices were high -- was achieved with little fallout for the government, the only Islamist-led administration to remain in power in North Africa since the Arab Spring unraveled. The PJD party that heads the government carried the popular vote in this month's local elections, viewed as a test for its prospects in next year's parliamentary ballot.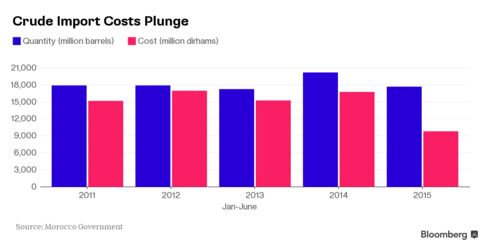 That stability relative to other regional net energy importers has been vital in attracting investment in real estate and tourism, especially from the monarchies of the Gulf Cooperation Council.
Though Egypt has also benefited from the lower cost of fuel subsidies, the economy has struggled since the ouster of Hosni Mubarak in 2011 spurred years of political turmoil and the sharpest business downturn in decades. The fallout from civil war in Syria has weighed on Lebanon, while in Morocco's neighbor Algeria, as in OPEC nations in the Gulf, loss of vital oil revenues has hurt the government budget.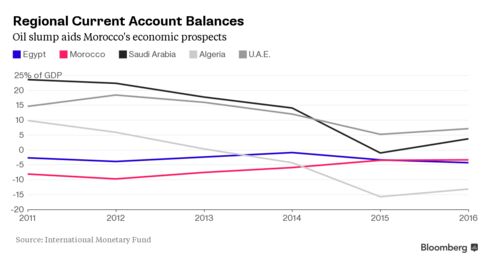 "Morocco has made significant savings on the fiscal side, and this was easier to do because of the low oil prices, so it was good timing," said Karim El Aynaoui, a former economist at both the World Bank and Morocco's central bank, who now heads the Rabat-based OCP Policy Center think tank.
A smaller bill for energy and state subsidies will help both the current account and budget deficits, while also helping to rebuild Morocco's foreign reserves, Fitch Ratings said in its most recent country report in April.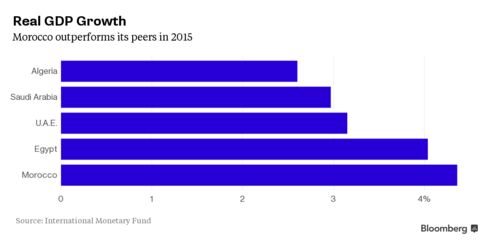 The savings mean state investment will remain above 5 percent of gross domestic product, according to Fitch. That is helping Morocco develop its promising auto sector and other manufacturing.
Both Ford Motor Co. and PSA Peugeot Citroen have announced plans this year to expand their Moroccan operations, with the former planning to double purchases of domestic auto parts. Peugeot's Morocco plant, scheduled to begin production in 2019, will be its first direct investment in Africa. Renault SA already has plants in Tangier and Casablanca.
Central bank Governor Abdellatif Jouahri said in an interview on Sunday that Morocco will seek International Monetary Fund advice on how to shift to a flexible exchange rate to attract more investment. The economy is expected to grow by 5 percent this year, he said.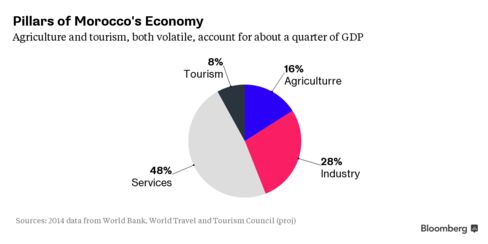 "The challenge is to keep on reforming to keep up long-term growth, and invest in things like infrastructure that are the basis of an economy," El Aynaoui from the OCP Policy Center said.
Morocco does face potential risks, especially from Islamic militancy that may deter tourist travel to North Africa. Agricultural production remains heavily dependent on rainfall in the absence of widespread irrigation.
Even so, analysts rank the country above its North Africa peers for its stability and growth potential. It also stands to gain from the economic recovery in its largest trading partner, Europe.
"Morocco's economic transformation still appears on track," said Bloomberg Intelligence analyst Mark Bohlund. "Continued fiscal consolidation efforts, coupled with an expanding manufacturing sector, should further boost investor sentiment."
Before it's here, it's on the Bloomberg Terminal.
LEARN MORE