Macquarie: Here's Why It's Futile to Fight the People's Bank of China
Beijing will be happy selling foreign reserves.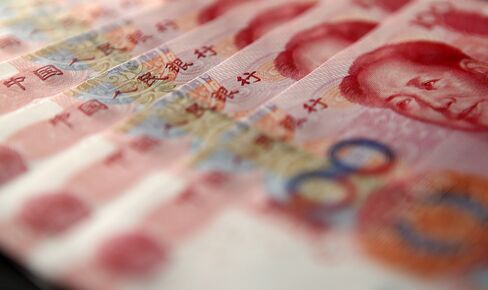 China's exchange rate management system is undoubtedly a complex beast—and one that's caused market participants a ton of stress over the past month.
Larry Hu, head of China economics at Macquarie, and economist Jerry Peng think a lot of the popular views about the yuan and the Chinese government's approach to dealing with its predicament are incorrect.
Pundits, they wrote, are oversimplifying and mischaracterizing the finer points of China's dilemma, which is that the world's second-largest economy can't have an open capital account, set monetary policy independently, and keep a fixed exchange rate at the same time.
China's situation requires a more nuanced approach, according to Macquarie, as the typical market reactions to potential courses of action might not hold true in this instance:
The textbook version of "impossible trinity" overlooks that the most important driver in China's capital flows is not the deposit rate differentials between … China and the U.S., but the perceived China hard-landing risks and the expectation on yuan depreciation. … It's possible that rate cuts by the PBoC could actually reduce capital outflow, if it lowers the hard landing risk and boost the return to China-related assets.
An alternative resolution to China's capital outflows problem and subsequent pressure on the yuan that has been floated—a one-off devaluation of the currency an order of magnitude larger than what occurred in August—would likely backfire, according to Macquarie's duo, who believe this would spur a global currency war and lead to an increase in fear about the state of the Chinese economy.
More important, Hu and Peng think the People's Bank of China is well positioned to win what Société Générale chief China economist Wei Yao called a "war of attrition against capital outflows."
Floods of money out of China have been a key source of pressure on the yuan, and prompted the nation's central bankers to sell foreign reserve holdings to support the value of their currency.
Based on SocGen's estimate of the maximum amount of foreign reserves the People's Bank of China would be willing to sell, as well as the recent trend in capital outflows, policymakers won't be able to maintain their stance for more than a year.
Macquarie, however, disagrees.
"[T]he PBoC could carry out the current pace of interventions not for months, but for years," they wrote. "The market will give up fighting with the PBoC well before China's central bank runs out of foreign exchange reserves."
While emerging markets have sought to build up reserve holdings as a buffer to help mitigate periods of acute stress—a lesson learned following the Asian crisis of the 1990s—this foreign cash isn't a free lunch.
The crux of Hu and Peng's case is that Chinese policymakers will be quite happy to draw down their foreign currency holdings.
As Michael Pettis, a professor of finance at Peking University and an all-round China expert, has stressed, both sides of the balance sheet need to be examined. The People's Bank of China's assets, namely U.S. Treasuries, generate a lower return than the interest rate paid to holders of Chinese debt.
"That's why Premier Li Keqiang said in 2014 that 'foreign exchange reserves' have become a big burden for us,'" wrote Hu and Peng.
The real cost of the foreign reserve sales, as Barclays's foreign exchange and rates team observed, is the deleterious effect on domestic liquidity when foreign assets are exchanged for yuan.
As such, Macquarie adds that China's central bank will need to reduce its reserve requirement ratio to boost liquidity, but the good news is that it has plenty of room to do so.
Before it's here, it's on the Bloomberg Terminal.
LEARN MORE