Japan Raises Volcano Warning Level After Eruption at Mt. Aso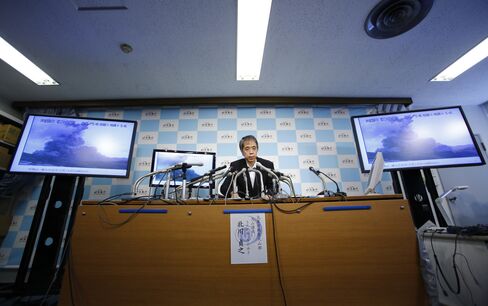 Mount Aso, located on Japan's southern main island of Kyushu, erupted at 9:50 a.m. local time, according to the nation's weather agency, which raised its alert level on the volcano.
Public broadcaster NHK showed images of thick smoke spewing from the mountain, which is near Kumamoto, Kyushu's third-largest city with a population of about 730,000. The eruption prompted ANA Holdings Inc. to cancel six flights serving Kumamoto's airport, while Japan Airlines Co. canceled four flights.
Aso is about 100 kilometers south of Fukuoka, the core of Kyushu's industrial heartland, and about 860 kilometers from Tokyo. Kyushu Electric Power Co.'s Sendai plant, which on Sept. 10 became Japan's first nuclear facility to restart commercial operations under regulations devised after the Fukushima disaster, is located about 140 kilometers to the south.
The Japan Meteorological Agency raised its 5-scale Volcanic Alert Level to 3 from 2 following the eruption, warning climbers to not approach the volcano and stand by for possible future eruptions. No injuries or deaths have been reported.
The volcano became the subject of surveillance after experiencing smaller-scale eruptions in August 2014. It had a series of small-scale eruptions last week, according to the weather agency. Today's eruption exceeds the scale of past events, and the agency warned residents of danger from volcanic ash and falling rocks.
An eruption last September at Mt. Ontake spewed dangerous gases and killed several dozen people at the height of the nation's mountain-trekking season. The weather agency is currently monitoring at least 15 active volcanoes in the nation.
Before it's here, it's on the Bloomberg Terminal.
LEARN MORE