Japan Post Said to Pay IPO Underwriters $191 Million in Fees
Underwriters will make about 23 billion yen in total fees

Fee percentage is the lowest on record for a major Japan IPO
Japan Post Group's underwriters are set to earn about 23 billion yen ($191 million) in fees for managing the world's biggest initial public offering since Alibaba Group Holding Ltd.'s 2014 share sale, according to people with knowledge of the matter.
Managers of the 1.4 trillion-yen IPO will get 1.7 percent of the amount sold to retail investors in fees and 1.5 percent for the institutional tranche, one of the people said, asking not to be named because the information is private. That works out to a 1.64 percent average fee, according to calculations by Bloomberg.
The state-owned postal giant is paying the lowest fee, expressed as a percentage of deal size, on record for a major IPO in Japan and less than half the average for first-time offers in the country since 2010, data compiled by Bloomberg show. Large IPOs and sales of government assets tend to generate lower fees. E-commerce giant Alibaba paid 1.2 percent for its $25 billion offering a year ago, Bloomberg-compiled data show.
"This is a prestige deal with government involvement," said Mac Salman, head of research on Japanese financial firms at Jefferies Group LLC in Tokyo. "Only a tranche of it is being sold now, so brokerages could see getting involved as an avenue to further deals."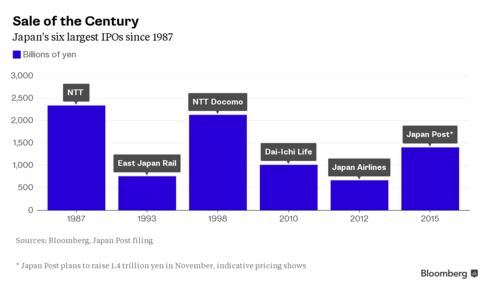 Japan Post Holdings Co. and its banking and insurance units are set to list on the Tokyo Stock Exchange on Nov. 4 following the IPO, the nation's biggest since 1998. Nomura Holdings Inc. and Mitsubishi UFJ Morgan Stanley Securities Co. are responsible for selling almost half the stock, people familiar with the matter said last week. Goldman Sachs Group Inc. and JPMorgan Chase & Co. are also global coordinators of the deal.
Spokesmen for Japan Post and the four brokerages declined to comment, as did Finance Ministry officials. The total fees are based on indicative prices announced last week and the amount may change depending on book building and pricing, the people said.
Japan Airlines
Companies going public in Japan on average paid 3.8 percent in underwriter fees since the start of 2010, according to data compiled by Bloomberg. Japan Airlines Co., the carrier that was relisted in 2012 after bankruptcy and a government-backed restructuring, paid 2.25 percent, the data show. The same percentage was paid to managers of a 2014 IPO by Japan Display Inc., another entity that was revived by the government, according to the data.
Daiwa Securities Group Inc., SMBC Nikko Securities Inc. and Mizuho Securities Co. are among more than 50 other firms underwriting the Japan Post sales. Individual investors are being targeted for at least 70 percent of the IPO, people with knowledge of the matter said last week.
The fees being shared barely exceed the 22.5 billion yen Nomura alone is getting for exclusively managing a 500 billion-yen public offering by Toyota Motor Corp. in July, according to Bloomberg calculations based on a regulatory filing made by the automaker.
Before it's here, it's on the Bloomberg Terminal.
LEARN MORE