Jaguar Doing Loops Shows Escalation in SUV Marketing Battle
F-Pace is set to become Jaguar's best-selling model: IHS

Jaguar to contend with Maserati, Alfa Romeo SUVs as of 2016
Imagine you're the marketing department at a car company synonymous with stately sedans and elegant sports cars and have been tasked with the challenge of promoting a hulking SUV in an increasingly crowded field of luxury offroad vehicles.
Jaguar's response: construct a looping roadway the size of a Ferris wheel, hire a stuntman and send the car spinning through the giant arch, complete with disco lights and a firework finale. Such was the spectacle put on for the public Monday night at the Frankfurt International Motor Show to present its mid-size 42,390-euro ($48,000) F-Pace.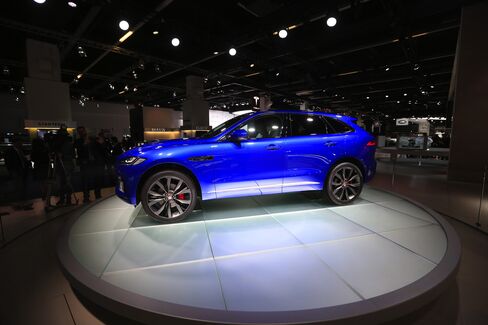 Threading a car through a giant loop isn't easy (just ask Tony Hawk trying to do the same on a skateboard) and not many owners of an F-Pace are likely to try the trick at home. Yet the stunt signifies the next logical escalation in a marketing battle for customers' attention. Audi's Q5 and BMW's X models have an established presence in the field, Maserati SpA and Alfa Romeo are readying their own sport utility offerings, and even Bentley is rolling out a model in Frankfurt, which it promotes as both the most expensive and the fastest of its kind.
"One of the things Jaguar has struggled with recently is appealing to a younger audience," said Ian Fletcher, a London-based analyst for IHS. "Because they've focused on sports cars and sedans, it's ruled out a lot of family buyers."
The new SUV is part of a Jaguar strategy to broaden out the brand that began with the mid-range XE sedan, its cheapest model and a competitor for the BMW 3-Series. Assuming demand for SUVs continues unabated, the F-Pace may become Jaguar's best-selling model, with sales peaking at 44,914 cars in 2017, according to market forecaster IHS Automotive. Though that's a fraction of the Audi Q5's expected sales of 267,784 vehicles, it would move the needle for Jaguar.
Standing Out
Demand for SUVs will probably rise 61 percent by the end of the decade to 19.8 million vehicles, as families continue to choose spacious cars with a sporty edge over station wagons, IHS estimates.
"Building a typical station wagon or estate isn't really going to cut the mustard with consumers," Fletcher said. The F-Pace will "fill a hole in the market, despite the fact that a lot of the German brands are the leaders. There are a lot of people who don't want a German brand, as has been proven by Volvo's XC90."
Volvo's revamped $49,800 XC90 SUV has exceeded sales expectations, with orders for 65,000 vehicles by the second week of September, compared with a full-year target of 50,000.
In its bid to stand out in the crowded field, Jaguar's SUV offers extras including a function that compares fuel levels with the length of the planned journey to suggest gas stations along the way in time. For tricky starts on snow or soggy grass, drivers only need to push a button for the F-Pace to determine how much traction it needs. (For more news on the show, see SHOW.)
Crazy Tricks
Thus far, Jaguar's sales haven't matched the brand recognition it built on James Bond and the 1960s E-Type race car. The company delivered a total of 81,570 XF sedans and F-Type sports cars last year, as well as 381,108 Range Rover SUVs. That compares with sales of 2.12 million autos at BMW AG, the world's biggest luxury-car maker.
The car industry is known for outlandish promotion stunts to show off its capabilities. Audi once sent a sedan up a ski-jump slope in midwinter to burnish its all-wheel credentials. Others have taken the opposite tack, with Daimler AG's Smart failing hopelessly in rugged terrain in a recent commercial, poking fun at buyers of SUVs who then find themselves stuck in the thick of the urban jungle.
The F-Pace is more of a crossover than a full-fledged SUV, featuring a "sportiness" that is "really Jaguar," and doesn't pose a threat of drawing buyers away from Land Rover vehicles, Ralf Speth, head of the Jaguar Land Rover division at Indian parent company Tata Motors Ltd., said in an interview following a Frankfurt show press briefing.
Before it's here, it's on the Bloomberg Terminal.
LEARN MORE