India's Inflation Eases, Adding Rate-Cut Pressure on Rajan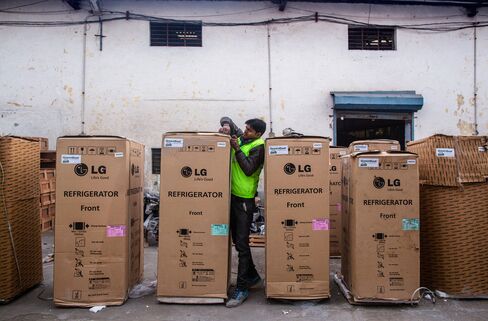 CPI eases to 3.66% in August from July 3.69%; vs est. 3.57%

Consumer food inflation accelerates slightly to 2.2% vs 2.15%
India's two main inflation gauges showed a continued easing, adding pressure on central bank Governor Raghuram Rajan to cut interest rates for a fourth time this year.
Consumer price inflation, the central bank's benchmark, eased to 3.66 percent in August from a revised 3.69 percent -- below the central bank's target of 6 percent by January for a 12th straight month. A separate Bloomberg survey had predicted the index would fall to 3.57 percent.
Wholesale prices fell 4.95 percent in August from a year earlier after slipping 4.05 percent in July, the Commerce Ministry said in a statement on Monday. The median of 32 economists in a Bloomberg survey had predicted a 4.4 percent decline.
Rajan has resisted growing pressure from the Finance Ministry to ease monetary policy, leaving rates unchanged in August ahead of a possible increase in U.S. borrowing costs this week. His next policy review is scheduled on Sept. 29.
"Prices remain contained both for food as well as core inflation which is lower compared to the previous month," said Anubhuti Sahay, an economist at Standard Chartered Plc in Mumbai. "Unless there is any external volatility, we would expect RBI to cut interest rates."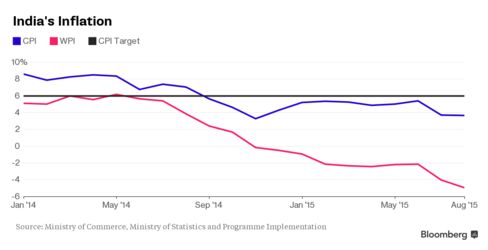 Inflation highlights:
* India's Food Price Index rose 2.2 percent in August from a year earlier vs 2.15 percent in July
* The increase was led by pulses, which surged about 26 percent in the world's top buyer. Imports are estimated to reach a record 4.5 million tons in the year through March 2016
* Vegetable prices eased 6.4 percent and sugar fell 13 percent
* Food accounts for almost half of India's CPI basket, and insufficient rains this year risk boosting costs
* India's June-September monsoon rainfall has been 16 percent below normal, according to the weather department
* Rajan has shrugged off calls to focus more on declining WPI, and has said he wants to anchor all inflationary expectations to the CPI target
* Central bank's glide path calls for inflation <6% by Jan. 2016, 5% Jan. 2017, 4% by March 31, 2018
Before it's here, it's on the Bloomberg Terminal.
LEARN MORE