Google Hires Former Hyundai U.S. Chief to Lead Driverless Cars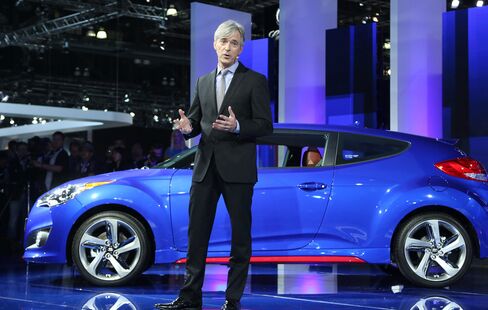 John Krafcik to step down as president of TrueCar this week

Google's autonomous cars have logged more than 1 million miles
Google Inc. hired John Krafcik, an auto-industry executive, to head up its driverless car effort as the search-engine giant pushes for broader adoption of the new technology.
Krafcik, who will hold the position of chief executive officer, will join the project later this month, the company said in an e-mail. Most recently, Krafcik has been president of TrueCar Inc., the online auto-buying service, and previously led Hyundai Motor Co.'s U.S. operations.
"We're feeling good about our progress, so now we're investing in building out a team that can help us bring this technology to its full potential in the coming years," the Mountain View, California-based company said. "John's combination of technical expertise and auto industry experience will be particularly valuable as we collaborate with many different partners to achieve our goal of transforming mobility for millions of people."
Google, aiming for returns on its long-term strategies, is looking for new ways to make driverless cars more widely accepted after years of testing the technology. The company has logged more than 1 million miles on public roads with autonomous vehicles.
Chris Urmson, who was leading the project, will continue to lead technology development for the effort, Google said. The company doesn't plan to manufacture cars, it said.
Lean Production
Krafcik spent about a decade at Hyundai, where he helped the Korean carmaker increase U.S. market share by more than 50 percent. He previously worked for Ford Motor Co. for about 14 years, holding product development leadership positions, including chief engineer for the Expedition/Navigator line, Google said.
The executive is credited for coining the term "lean production" to describe how Japanese carmakers' plants were more productive than their American and European counterparts, using the phrase in a 1988 research paper for Massachusetts Institute of Technology's Sloan Management Review.
"This is a great opportunity to help Google develop the enormous potential of self-driving cars," Krafcik said in the statement. "This technology can save thousands of lives, give millions of people greater mobility, and free us from a lot of the things we find frustrating about driving today."
Before it's here, it's on the Bloomberg Terminal.
LEARN MORE