Fischer's 2014 Why-Wait Wisdom Points to Fed Liftoff This Week
Don't overestimate the benefits of delaying action for clarity

Next time is never clear, `just unclear in a different way'
Stanley Fischer offered a word to the wise in 2014 that resonates today as he and other Federal Reserve officials face their toughest decision in years -- the benefits of waiting can be overrated.
Slowing economic growth abroad and volatile stock prices at home are prompting some U.S. central bankers to rethink whether now is the best time for the first interest-rate increase since 2006. One option, says former Fed Vice Chairman Donald Kohn, would be to put off a move at this week's meeting to get a clearer view of the outlook. Investors seem to agree, putting a 70 percent chance of no move on Sept. 17.
Yet Fischer cautioned in a speech just three months before taking over as the Fed's No. 2 official in June 2014 that waiting carries its own difficulties. In his view, the situation is always unclear and monetary policy takes time to affect the economy.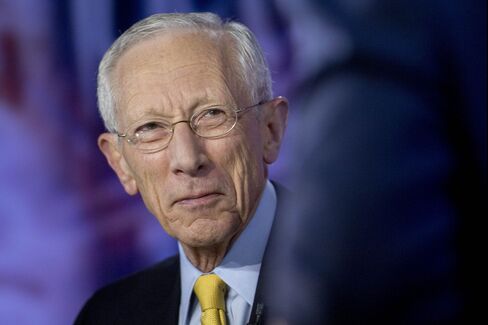 "Don't overestimate the benefits of waiting for the situation to clarify," he said.
Harking back to his time as head of Israel's central bank from 2005 to 2013, Fischer recalled telling his advisers he had put off a "very difficult" decision on rates until the following month when the situation would be less uncertain. His then deputy, Meir Sokoler, commented, "It is never clear next time; it is just unclear in a different way."
Fischer, whom Fed Chair Janet Yellen has said she relies on in mapping out policy, made a similar point much more recently.
"There is always uncertainty and we just have to recognize it," he told CNBC television on Aug. 28. Asked if the Fed should delay an increase until it had an "unimpeachable case" that a move was warranted, Fischer replied, "If you wait that long, you will be waiting too long."
Economists are divided over whether or not the Fed will raise rates at its two-day meeting starting Wednesday. The central bank reduced its target for the federal funds rate to zero to 0.25 percent in December 2008 and has held it there since.
Jan Hatzius, chief economist at Goldman Sachs Group Inc. in New York, predicts the Federal Open Market Committee will put off making a move this week as falling stock prices and a rising dollar have already tightened financial conditions.
Michael Feroli, chief U.S. economist at JPMorgan Chase & Co., leans toward the FOMC raising rates at this week's meeting. His focus is on the labor market, where the jobless rate -- at 5.1 percent in August -- is now roughly equivalent to what most Fed policy makers reckon is full employment.
Central bank officials themselves have given mixed signals about what to expect this week.
Richmond Fed President Jeffrey Lacker, an FOMC voting member this year, said on Sept. 4 that it's time for the central bank to end its era of zero interest rates. Boston Fed President Eric Rosengren said on Sept. 1 that his confidence that inflation will rise back toward the Fed's 2 percent goal would be diminished if the global economy turns out to be much weaker than expected.
Kohn, the Fed's vice chairman from 2006 to 2010, told a Brookings Institution meeting in Washington on Sept. 3 that one reason for the Fed to delay tightening would be to try to sort out what the markets are saying about the global economy.
"You do see broader dis-inflationary forces at work" in China and the rest of the world, Kohn said. "One would hope that by waiting a little while you could process better how strong they were and how they would feed back onto the U.S."
The only trouble, said former Fed adviser Jon Faust, is that it will take more than a month or two to sort out what's happening. "That's a thing that will play out over a year," said Faust, a professor of economics at Johns Hopkins University in Baltimore.
Fischer made much the same point at Stanford University on March 14, 2014.
"We tend to underestimate the lags in receiving information and the lags with which policy decisions affect the economy," he said in a speech, titled "Lessons from Crises, 1985-2014."
"Those lags led me to try to make decisions as early as possible, even if that meant there was more uncertainty about the correctness of the decision than would have been appropriate had the lags been absent," he added.
Before it's here, it's on the Bloomberg Terminal.
LEARN MORE