Natural Gas Climbs to One-Month High on Autumn Cooling Demand
`This last round of heat seems to be relatively supportive'

Bank of America analyst sees `rising downward trend' in output
Natural gas futures rose to a one-month high on forecasts for unusually warm fall weather in the eastern half of the U.S.
Temperatures may be above normal in the Northeast and Central U.S. from Sept. 19 through Sept. 28, according to WSI Corp. Dallas may reach 94 degrees Fahrenheit (34 Celsius) on Sept. 22, 7 more than usual, AccuWeather Inc. data show. Gas deliveries to power plants are 7 percent above the year-ago level, according to LCI Energy Insight.
Gas has climbed 2.6 percent this month as production growth slows and late-season heat boosts electricity demand. Output from the Marcellus shale, the biggest reservoir by volume, may decline in October for a third straight month, the Energy Information Administration said Monday.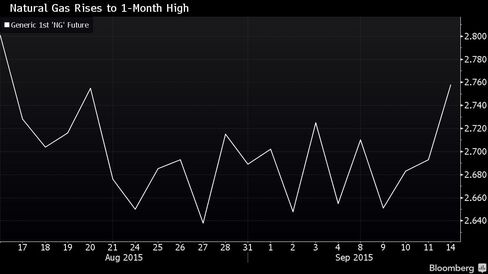 "This last round of heat seems to be relatively supportive," said Teri Viswanath, director of commodities strategy at BNP Paribas SA in New York. "We've had late-breaking cooling demand in September, so the threat that we're going to run up against physical gas storage constraints has waned."
Natural gas for October delivery rose 6.5 cents, or 2.4 percent, to $2.758 per million British thermal units on the New York Mercantile Exchange, the highest settlement since Aug. 14. Volume for all futures traded was 7.9 percent above the 100-day average at 2:57 p.m.
Weather Outlook
The high in Philadelphia on Sept. 19 may be 87 degrees Fahrenheit, 10 higher than average, AccuWeather data show. Power plants account for about 33 percent of gas demand.
Natural gas output from the Marcellus may drop 0.5 percent in October to 16.29 billion cubic feet a day, the EIA said Monday in the Drilling Productivity Report. Total U.S. supply may fall 0.5 percent to 44.785 billion a day.
Gas will probably trade below $3 per million Btu through November, stoking demand from electricity generators, the EIA said Sept. 9 in its monthly Short-Term Energy Outlook. Consumption by power plants may surge 14 percent this year, according to the report.
After reaching near-record levels of natural gas in storage in 2015, the U.S. may fall short of supply next year as output shrinks amid producers' spending cuts, Bank of America Corp. said in a note to clients Monday. Production may slip by 0.3 billion cubic feet a day after climbing 3.9 billion a day over the past two years, it said.
"Everything points to a rising downward trend in production," Francisco Blanch, an analyst at Bank of America in New York, said in the note. "In the end, producers do not have hedges on for next year and it is difficult to see how they can find the incremental capex needed to grow."
Before it's here, it's on the Bloomberg Terminal.
LEARN MORE