Dutch Troubles Cloud Dijsselbloem's Prospects Post Greek Success
Eurogroup president's party has dropped to sixth in polls

Domestic slump may hurt Dijsselbloem's chances of EU job
Jeroen Dijsselbloem placed himself at the forefront of a new generation of European policy makers as he led talks to keep Greece in the euro. He might not be able to stay there unless he can win back Dutch voters.
The 49-year-old Dutchman recently fended off a challenge from Spain to secure a second two-and-a-half-year term as chairman of the eurogroup, a collective of finance ministers that has day-to-day political control over the common currency. It's a role that can serve as a launchpad to bigger things -- his predecessor Jean-Claude Juncker, from Luxembourg, held the position for eight years before becoming European Commission President.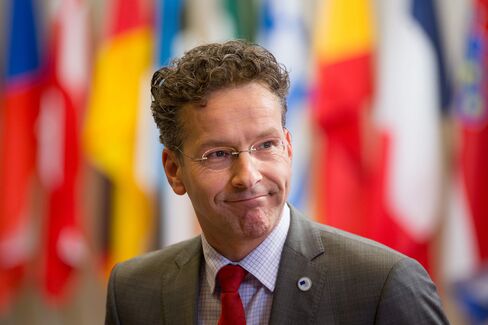 The catch? Dijsselbloem's position as Dutch finance minister, his stepping stone to European power, may have an expiry date unless he can reverse his Labor Party's collapse in the polls. His next chance comes Tuesday as he presents the 2016 budget to parliament. If he fails, the step up to a senior European job may be out of reach, according to Marco Incerti, a research fellow at CEPS, a Brussels-based research institute.
"Dijsselbloem may have to opt for something else," Incerti said. "It's not only a matter of Labor losing ground in the Netherlands but it's a matter of left parties not doing so well in countries across Europe."
With Greece's problems settled, for the time being at least, establishment parties across the euro area are looking to exploit former Greek Prime Minister Alexis Tsipras's climbdown to fend off the challenge of insurgents from Podemos in Spain to Scotland's Nationalists. For Dijsselbloem, the budget represents a chance to help reclaim the domestic initiative and win back support lost to the D66 Democrats and Geert Wilders's Freedom Party.
Labor's Decline
The Dutch Labor Party has served in nearly half of the country's governments since World War II, but if elections were held now, it would only win 14 of the chamber's 150 seats compared with the 38 it won during the last election, according to an Ipsos poll published Sept. 10. Prime Minister Mark Rutte's Liberals would remain the biggest party with the D66 Democrats overtaking Labor to poll second.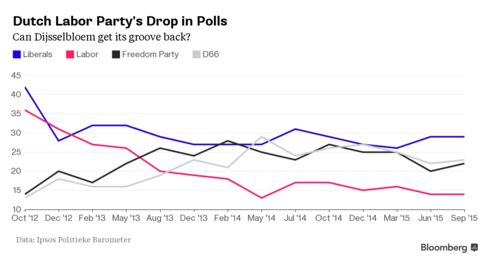 For Dijsselbloem, the Dutch and European roles have so far gone hand in hand. After about 12 years in parliament, he became the finance minister in November 2012 and eurogroup chairman just two months later -- despite having no significant international experience.
'Sloppy Kisses'
The son of an English teacher had some missteps in political diplomacy -- calling Juncker an "inveterate drinker and smoker" on a Dutch talk show, just as the European veteran was preparing his candidacy for the Commission presidency.
Dijsselbloem apologized. He later told Dutch magazine Vrij Nederland that Juncker gives him "sloppy kisses" whenever they meet. Dijsselbloem, an agrarian economist, has since leveraged his straight talk to his advantage to win over counterparts during the endless eurogroup sessions, earning the approval of the Germans in the process.
At home however, he's had to manage his share of controversy. He was forced to delay the public offering of state-owned ABN Amro after national outrage over a 100,000-euro ($113,000) pay bump to executives. He also had to execute a public U-turn after firing a public rail executive, handing the man an exit package on the advice of his lawyers after swearing he would never do so.
Austerity Problems
The bigger problem for Labor though has been austerity, the policy that made Dijsselbloem's reputation in Europe.
Many Labor voters feel betrayed by the party because its leader Diederik Samsom promised deficit reduction for its own sake would not be a goal. Then Dijsselbloem signed off on a tough austerity package cutting health care spending, social security, raising the pension age and designing curbs on immigration.
The good news for the eurogroup leader is that national elections aren't scheduled to be held until 2017. The bad news is that the EU jobs merry-go-round won't stop again until 2019, when the next batch of commissioners will be selected. A Dijsselbloem candidacy for the commission wouldn't have a natural backer if Labor is not in Dutch government at that point. So the 2016 budget presented Tuesday could go a long way to shaping both the election outcome and the next act of Dijsselbloem's career.
Tax Relief
After years of spending cuts and sluggish growth, Dijsselbloem is forecast to have 5 billion euros available to help reduce income taxes, allowing him to give people a break after years of austerity. He's also expected to eliminate annual asset taxes for anyone with less than 25,000 euros in savings and lower the rate for amounts up to 125,000 euros, according to press reports.
Such a move could garner support from Labor Party voters. With two years left, he has the opportunity to show that he can win them back as he himself acknowledged in an interview with a Dutch television program last week.
"Of course, something has to happen when the polls are so bad," he said.
"I'm worried about the polls, not about the party."
Before it's here, it's on the Bloomberg Terminal.
LEARN MORE