U.S. Stocks Rise With Dollar as Treasuries Sink Before Fed Meets
Retail sales gains support case for higher interest rates

Two-year Treasury yields jump to highest level since 2011
U.S. stocks rallied with the dollar, while Treasuries tumbled as data indicating resilience among American consumers bolstered confidence in the economy, aiding the case for higher interest rates as the Federal Reserve prepares to meet.
The Standard & Poor's 500 Index ended Tuesday at its highest level since Aug. 28 and the dollar rallied against a basket of its major peers. Yields on 10-year Treasury notes jumped the most in three weeks, while the more policy-sensitive two-year rate surged to the highest level since 2011.
Retail sales rose for a second month in August, a sign U.S. consumers may be looking past recent volatility in financial markets when making purchasing decisions. The data came a day before the Fed meets to decide whether the economy can withstand higher borrowing costs, with odds on a rate hike on Thursday climbing to 30 percent, up from 28 percent on Monday, though down from more than 50 percent before China roiled markets by devaluing the yuan.
"People have been worried about a possible spillover from China and that's just not happening," said John Canally, chief economic strategist at LPL Financial Corp. in Boston. "We saw a pretty solid gain in retail sales in August and an upward revision to July, which keeps GDP on track for 2.5 percent to 3 percent gains in the third quarter."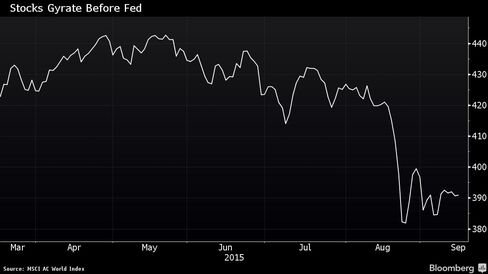 Stocks
The S&P 500 advanced 1.3 percent to 1,978.09 by 4 p.m. in New York, its steepest advance in a week. Trading in S&P 500 shares was 17 percent below the 30-day average, according to data compiled by Bloomberg. The gauge has rallied 5.9 percent since falling to a 10-month low on Aug. 25, though it remains 6 percent below the level it traded at when China devalued its currency on Aug. 11.
"Markets aren't very deep right now, as far as participants," said Martin Leclerc, the founder and chief investment officer of Barrack Yard Advisors LLC, which oversees $160 million. "I'm hanging fire like everyone else and selectively buying stuff that looks oversold."
The recent turbulence in global markets heralded a new era of increased volatility, according to hedge fund 36 South Capital Advisors, which predicted the August rout. While calm normally prevails before the Fed moves on interest rates, this time stock swings reign. Should the U.S. central bank raises rates this week, it would be the first time since 1946 that it will have done so within a month of a correction.
Equities advanced even as a report showed chief executive officers of large U.S. companies are becoming less optimistic about the prospects for the world's largest economy, with more leaders planning to cut capital spending and employment in the next six months. Hewlett-Packard Co. said that it will cut up to 30,000 more jobs as part of a $2.7 billion restructuring. Its shares slipped 2.5 percent in after-hours trading.
In Europe, the Stoxx 600 Index jumped 0.8 percent, reversing a loss of as much as 0.6 percent. Oil and gas producers rallied 1.8 percent and carmakers added 1.4 percent to pace gains. A 3.5 percent slump in the Shanghai Composite Index soured sentiment toward equities in Asia, with the MSCI Asia Pacific Index down 0.6 percent.
(For more news on stocks, see TOP STK.)
Bonds
Yields on 10-year Treasury notes rose 10 basis points, or 0.10 percentage point, to 2.29 percent, the highest closing level since July 22. Rates on two-year notes climbed by eight basis points to 0.81 percent, the highest since April 2011.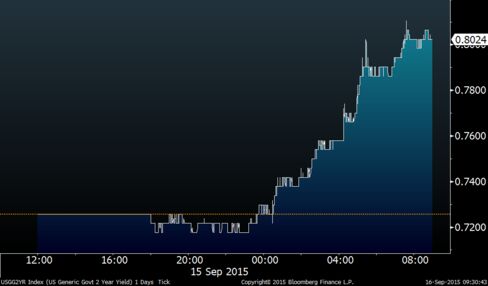 "Retail sales is positive -- everyone looks at the consumer for guidance in the direction and strength of the economy," said Sean Simko, who manages $8 billion at SEI Investments Co. in Oaks, Pennsylvania.
Yields on 10-year bunds jumped nine basis points to 0.74 percent, while similar-maturity Spanish bond rates were little changed after rising for four days. Yields on Japanese debt due in a decade rose a second day, gaining two basis points to 0.38 percent.
(For more news on bonds, see TOP BON.)
Currencies
The Bloomberg Dollar Spot Index, which tracks the greenback against 10 major peers, advanced 0.3 percent, rising for the first time in four days. The euro slipped 0.4 percent to $1.1269.
The yen slipped 0.2 percent to 120.42 per dollar while maintaining advances against most of its other major peers. The Bank of Japan refrained from boosting stimulus at a meeting Tuesday despite signs the economic recovery is struggling to gain traction. Eleven of 35 economists surveyed by Bloomberg see policy makers stepping up easing in October.
Emerging-market currencies extended their longest stretch of gains since April amid demand for riskier assets, with the ruble, Turkish lira and Thai baht rising at least 0.3 percent.
(For more news on currencies, see TOP FX.)
Commodities
Gold for immediate delivery fell 0.3 percent to $1,105.35 an ounce. Futures volumes were about 47 percent below the 100-day average, and Monday saw the lightest trading in the precious metal all year, according to Comex data compiled by Bloomberg.
Copper reversed an earlier decline, with futures up 0.9 percent. The metal slid 2 percent on Monday following a four-day rally amid concern over the slowdown in China, the world's biggest consumer of industrial metals.
Oil rebounded from two days of declines, with West Texas Intermediate crude up 1.3 percent to settle at $44.59 a barrel. Brent added 0.6 percent to end at $46.63 a barrel.
The spread between WTI and Brent narrowed to the smallest in eight months amid rising North Sea deliveries and falling stockpiles at the largest U.S. storage hub. A narrowing spread signals that the global supply glut is growing while there may be relative tightening in parts of the U.S.
(For more news on commodities, see TOP CMD.)
Before it's here, it's on the Bloomberg Terminal.
LEARN MORE