Reductions and the sale could shrink staff by almost 25%

Firm may shut most or all of its investment bank in Russia
Deutsche Bank AG may dispense with almost 25 percent of its global workforce, as co-Chief Executive Officer John Cryan looks to deliver on pledges to reduce costs and streamline operations.
The bank is considering cutting 8,000 jobs, in addition to those to be eliminated through the sale of one of its consumer bank units, and will make a final decision next month, according to a person with knowledge of the matter. Deutsche Bank announced plans in April to divest Bonn-based Deutsche Postbank AG, which employs about 15,000, through a trade sale or by issuing shares to the public.
The extra cuts would probably mostly affect administrative and technology jobs, although some client-facing positions may be eliminated, said the person, who asked to remain anonymous because the plans are confidential. Deutsche Bank, which runs Europe's biggest investment bank, employed 98,647 at the end of June.
"The question for Deutsche Bank is whether they can pull this off," Dirk Sebrechts, who helps manage more than 200 billion euros ($226 billion) at KBC Groep NV, said by phone from Brussels on Tuesday. "Whatever they do is going to have to be pretty convincing since the last strategy was a bit of a disappointment."
KBC, a Belgian bank and asset manager, is among Deutsche Bank's top 30 shareholders, according to data compiled by Bloomberg.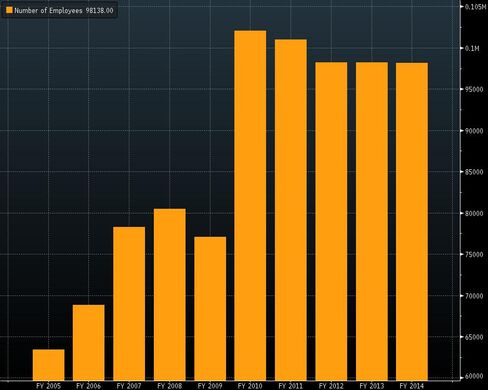 Investors are seeking greater detail of how Cryan, 54, plans to tackle what he described when he took over from Anshu Jain in July as the company's "swollen" cost base and "antiquated and inadequate" technology. Cryan, who shares the CEO post with Juergen Fitschen, inherited a strategy to boost returns by lowering expenses by about 15 percent by 2020 and shrinking assets at the investment bank by as much as 17 percent through 2018.
Klaus Winker, a spokesman at the bank, declined to comment. The shares rose 1 percent to 26.02 euros at 12:50 p.m. in Frankfurt on Tuesday, bringing this year's gain to 4.1 percent. The Bloomberg Europe Banks and Financial Services Index was up 0.7 percent this year.
"Given nothing has really happened to Deutsche Bank's staff levels on a net basis, Cryan will have to make some deeper cuts to show he is serious about actually cutting expenses," said Jon Peace, an analyst at Nomura Holdings Inc. who has a neutral recommendation on Deutsche Bank. "A decrease in the order of 10 percent of staff after the sale of Postbank would finally add credibility."
Cutting almost one out of four jobs would allow Cryan to keep the company's strategy largely intact and avoid taking "big decisions" like pulling out of businesses, said Karim Bertoni, who helps manage more than $6 billion at Bellevue Asset Management.
Russia Operations
"With slow growth, you can look on what you can improve, and that's costs," said Bertoni. "By cutting in back-office you improve costs without endangering revenue growth. If you touch front-office, that's the direct link with the client and you risk that the client leaves."
Deutsche Bank will probably face a charge of about 800 million euros to eliminate 8,000 positions and could reap savings in that magnitude, Philipp Haessler, an analyst at Equinet Bank AG who has a neutral stance on the shares, wrote in an e-mailed report from Frankfurt on Tuesday.
While Jain's plan foresaw the bank closing as many as 200 consumer-banking branches and exiting up to 10 countries, the company stopped short of saying how many jobs would be lost and where.
Deutsche Bank will probably close most or all of its investment bank operations in Russia, said the person. The lender operates one of the largest foreign securities firms in Russia, with more than 1,000 employees. It's also in the midst of a probe, which has focused on whether $6 billion in trades in Moscow and London were part of a possible money-laundering scheme by Russian clients, people familiar with the situation said in June.
Russia, in its first recession since 2009, has seen investment banking fees plummet as deal-making has ground to a halt. Commissions are at the lowest since 2002, according to data compiled by New York-based Freeman & Co.
Before it's here, it's on the Bloomberg Terminal.
LEARN MORE