Brokers Lose Jobs as More Rate Turkish Bank Than Goldman
About 30% of brokerages posted losses in the first quarter

Turkish stocks are headed for their worst year since 2011
One sign of just how overcrowded Turkey's brokerage industry has become: more analysts rate the nation's fifth-largest listed lender than cover Goldman Sachs Group Inc., the New York-based bank that's more than 20 times its size.
Now, foreign investors, the biggest holders of Turkish stocks, are fleeing the nation's assets at the fastest pace on record. That's putting pressure on an industry whose employee count is at the highest since 2007, and where about a third of the country's 85 brokerages posted losses in the first quarter. As the Borsa Istanbul 100 Index heads for its worst year since 2011, financial institutions are starting to make cuts at their Turkish businesses.
Austria's Erste Group Bank AG is eliminating jobs at its unprofitable brokerage unit, people with knowledge of the matter said in June, while Moscow's Renaissance Capital plans to shut its Istanbul office and move Turkish coverage to Dubai and London. The local brokerage of Kuwait's Burgan Bank SAK has also cut employee numbers by 20. While the head of Turkey's Capital Markets Board insists this is just a temporary blip ahead of November elections, traders in Turkish stocks say there are just too many brokerages.
"The whole market has become less friendly" because of client pressure and broker competition, Sebastian Kahlfeld, who manages a Turkey fund at Deutsche Asset & Wealth Management Investment GmbH, said by e-mail. "Add to that the declining market and the lower value of trades, and brokers are losing out on volume and margin at the same time."
Selloff
Of the 17 brokerages the Turkish capital markets association lists as having rescinded their licenses, more than half have done so since the beginning of 2014, a period that featured a government corruption scandal, three nationwide elections and the rise of Islamic State along Turkey's border.
The stock market has lost a third of its value this year amid a selloff in emerging market assets. Foreign investors sold more than $6 billion in local stocks and bonds in the first eight months of 2015 through Sept. 4, a record exodus, according to data from the central bank.
The Borsa Istanbul 100 Index has fallen 15 percent this year with the number of shares exchanged sinking gradually. The trading volume of Turkish stocks retreated to the lowest since December on Sept. 7. While it has since risen, it was 30 percent below the 12-month daily average on Monday. The value of shares traded was about 25 percent below the average.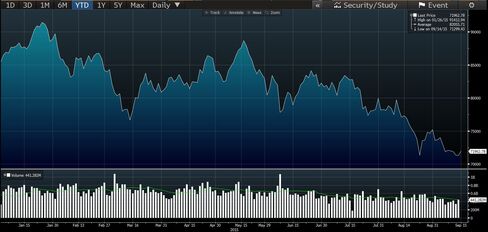 More competition means "there is no longer a market for the old-fashioned, plain vanilla brokerage business model where you write research, show it to a client and hope they trade through you," according to Murat Gulkan, a managing director at Unlu Portfoy Yonetim AS in Istanbul. "Few companies have been able to adapt to and thrive in this changing environment."
Thirty-three analysts rate Turkiye Halk Bankasi AS, Turkey's fifth-largest bank by market capitalization, one more than those who rate Goldman Sachs, data compiled by Bloomberg show.
Elections
If Turkey's brokers need demand for Turkish stocks to soar before their profits can recover, the November election may offer hope of a turnaround, according to Vahdettin Ertas, the head of Turkey's Capital Markets Board. The brokerage industry will "take off" after the new vote, he said on Tuesday.
Turkey is headed for a second general election this year after political parties failed to create a coalition government following an inconclusive vote in June. The political limbo helped weaken the Turkish lira to a record, making the currency the second-worst performer in emerging markets this year.
Yet strategists at Renaissance Capital, which employed three research staff and a trader at its office in Istanbul, said there are unlikely to be any upside drivers in the Turkish markets until 2016. "Turkey is firmly out of favor," according to a note sent by analysts including Michael Harris and Charlie Robertson.
"Almost as many people cover Coca Cola Icecek as the parent company that's about 60 times the market cap," Michel Danechi, a London-based portfolio manager at Duet Asset Management, said by e-mail. "That tells you everything you need to know."
Before it's here, it's on the Bloomberg Terminal.
LEARN MORE