Brazil's Biggest Party Is Happier With Rousseff, Leader Says
"Dialogue has been good," PMDB leader Leonardo Picciani says

Calls for Rousseff impeachment increased after S&P downgrade
The relationship between President Dilma Rousseff and her biggest ally in Brazil's Congress has improved, according to the leader of the party in the lower house.
"Dialogue has been good" with the government, said the leader, Congressman Leonardo Picciani of the Brazilian Democratic Movement Party, or PMDB. "Some of the commitments are being fulfilled."
Calls for Rousseff's resignation or impeachment grew last week after Standard & Poor's cut Brazil's credit rating to junk. Political consulting firm Eurasia wrote in a report Monday the odds had increased the president wouldn't finish her term. Brazil's second-biggest opposition party, known as the Democrats, plans to discuss impeachment procedures on the house floor this week, said a party leader, Congressman Mendonca Filho.
Without the support of the PMDB, the biggest party in the country, impeachment probably won't succeed. At least 342 out of 513 lawmakers in the lower house must vote in favor of impeachment for proceedings to advance to the Senate or Supreme Court, depending on the nature of the charges. The PMDB has 67 legislators in the lower house.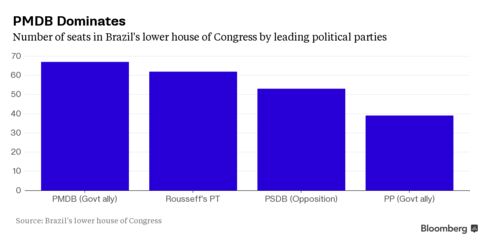 "The lower house representatives of the PMDB that support impeachment are a minority," Picciani said. "There are at most 10, and only four or five are actively" working to push Rousseff out of office.
Picciani's comments Monday on the improved relationship with Rousseff's government contrast to his complaints in the past. A month ago he said the government had a "dialog problem" with its coalition. Also in August, Vice President Michel Temer, who is head of the PMDB, stepped down as the official liaison between the administration and Congress.
Before it's here, it's on the Bloomberg Terminal.
LEARN MORE