Brazil Downgrade Leaves Firms With $270 Billion Debt Hangover
Companies that borrowed heavily during the boom pay price now

`Some will go broke,' CIBC strategist John Welch predicts
Brazilian companies that piled on $270 billion in international debt during the boom years are seeing their funding costs rise after the nation's credit rating was cut to junk.
The spread for five-year credit-default swaps to protect against a government default, one benchmark for setting what Brazilian companies must pay for external funding, has jumped 7.5 percent to 400 basis points since the downgrade, the highest since 2009. Adding to the pain, the dollar surged to a 13-year high, making principal and interest on international borrowing more costly for local firms.
"Even very small, unknown companies issued international bonds when Brazil was considered one of the most promising economies after the 2008 financial crisis," Salvatore Milanese, a partner at debt-restructuring adviser firm Pantalica Partners, said in a interview in Sao Paulo. "Now many of them are facing the consequences."
Standard & Poor's last week lowered Brazil's sovereign credit rating one level to BB+ and said it might cut it further in response to the administration's inability to shore up fiscal accounts as the economy falters. President Dilma Rousseff has failed to win support for her initiatives amid an investigation into corruption at the state-controlled oil company, some of which allegedly occurred while she was its chairwoman, sending her popularity to a record low and generating calls for her impeachment.
Federal, state and municipal governments oversaw only modest increases in external debt during the seven years Brazil had an investment-grade credit rating, increasing it 4.5 percent from December 2007 to March 2015, to $69 billion, according to central bank data. For banks and non-financial companies, the story is different: They more than doubled their dollar-denominated debt to $154 billion and $114.7 billion, respectively.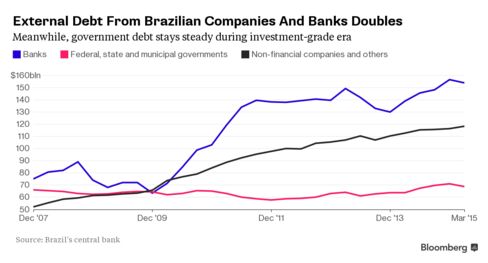 "Investors and creditors know other rating agencies will probably follow S&P and will try to anticipate the movement, asking for higher credit spreads now," John Welch, a strategist at Canadian Imperial Bank of Commerce in Toronto, said in a telephone interview. "We don't know yet when things will stabilize because of the political mess."
Christopher Garman, head of emerging markets at Eurasia Group, said the risks of an impeachment of Rousseff may increase after Brazil's rating downgrade, placing the chances at 30 percent.
S&P also cut 13 financial-services firms in Brazil, noting that banks have substantial holdings of government debt. Rio de Janeiro-based Vale SA, the world's biggest iron-ore producer, held on to its investment-grade rating. Even so, after Brazil's downgrade the cost of protecting against a default by Vale rose 3 percent to 525.75 basis points, for five-year credit-default swap contracts.
Petroleo Brasileiro SA, the oil producer mired in the corruption scandal, was cut two levels to BB by S&P. Moody's Investors Service had already lowered Petrobras to junk amid the investigation into alleged kickback schemes. Petrobras had 306 billion reais ($79 billion) in external debt, or 74 percent of its total, in June, according to the firm's financial statements. Its CDS spreads rose 4.8 percent to 771 basis points after Brazil's downgrade.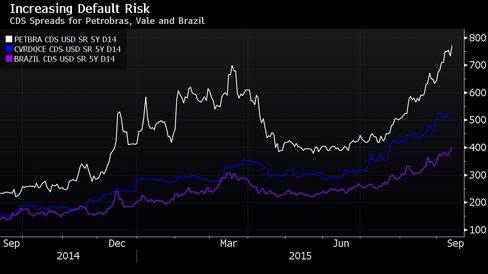 "The central bank will have to keep coming into the market and selling international reserves, providing credit lines to help companies and banks roll over their external debt," Welch said. That might be a good thing because "reserves are too high and have a cost for the government," he said.
Brazil's real rose 1.5 percent to 3.8154 per dollar Monday. It's down 30 percent this year, making it the world's worst-performing major currency.
"Some companies will struggle more than others, some will go broke, and others that can cope with the situation will simply pay higher interest rates for their debt," Welch said.
The loss of Brazil's investment-grade status will lead to less investment by Brazilian companies, said Ricardo Werneck, chief executive officer of MMX Mineracao e Metalicos SA, the mining company of former billionaire Eike Batista. "No one will take the risk to invest in the country with the cost of funding rising, regardless of the sector," Werneck said.
The situation is manageable for the biggest Brazilian banks, which are well-capitalized, hedge most of their dollar debt, have large deposits from clients and can raise local funds easily, said Max Bohm, an analyst at consulting firm Empiricus Research in Sao Paulo.
"Petrobras and other bigger Brazilian companies such as Vale that rely more on external debt will struggle the most," said Bohm, who added that smaller banks are also facing a "difficult situation."