BP Asks U.S. Regulator to Reverse Gas Market Manipulation Ruling
BP Plc asked federal regulators on Monday to reverse an administrative judge's ruling that it had manipulated natural gas markets in Texas in 2008.
"There is no direct evidence of manipulation," BP said in an appeal filed with the Federal Energy Regulatory Commission. The energy company said last month's initial ruling by the agency was "arbitrary and capricious."
FERC brought a case against London-based BP in August 2013. Traders at BP's Southeast natural gas desk were accused of a scheme to lower next-day, fixed-price natural gas prices at the Houston Ship Channel hub from Sept. 18 through Nov. 30, 2008, to boost physical and financial bets. Agency staff proposed a $28 million penalty against BP.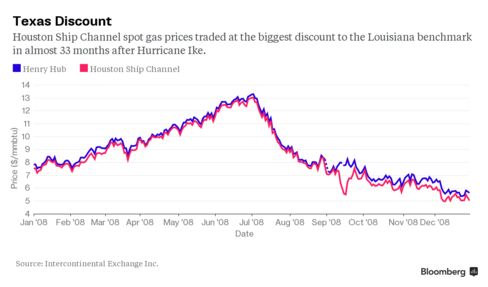 BP has contested claims that its trading and transportation around the Houston Ship Channel for those 83 days was manipulative, the company said in the appeal. "The trading at issue took place in a very unusual environment: in the midst of the financial crisis of 2008 and in the aftermath of Hurricane Gustav and the heels of Hurricane Ike," it said.
FERC Administrative Law Judge Carmen Cintron in Washington affirmed the agency staff's findings that the BP traders engaged in a manipulative scheme in a non-binding ruling issued Aug. 13. The judge's decision will be voted on by FERC's five-member commission, which will issue a final ruling on the case. BP can appeal a final order to a federal court.
BP shares fell 1.1 percent to $30.68 in New York on Monday.
Before it's here, it's on the Bloomberg Terminal.
LEARN MORE