Peer-to-peer lender targets Kenya by mid-2016, then Zambia

Sees opportunity to invest capital from insurance companies
RainFin (Pty) Ltd., a South African peer-to-peer lender part-owned by Barclays Plc, has more than doubled loans in the past year by tapping the needs of small businesses and forecasts further growth.
Daily lending directly from RainFin increased to about 1 million rand ($73,000) from about 400,000 rand in August 2014, Sean Emery, chief executive officer of RainFin, said in an interview. The amount lent through Barclays was "significantly more," Emery said, while declining to state the total.
"I really feel we have just pulled the Ferrari out of the garage," Emery said Sept. 10 on the sidelines of a banking conference in Johannesburg. "We are very much at the beginning of our growth cycle."
RainFin, the largest peer-to-peer lender in South Africa, the continent's most developed economy, is among online businesses seeking to win market share from traditional banks in areas such as credit, insurance and remittances. RainFin wants to emulate the success of San Francisco-based LendingClub Corp. by offering services via mobile phones and the Internet without branches to cut costs.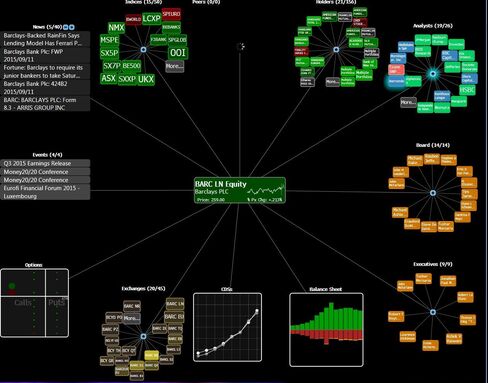 Barclays, whose South African unit bought 49 percent of RainFin last year, helps the company cope with regulation that often stymies the growth of small lenders, Emery said. After three months refining credit models with the bank, RainFin this week starts advertising on radio for the first time. The company will expand loans to small businesses by matching them with idle capital at institutions such as insurers pursuing higher returns than bonds, he said.
Market Potential
"It's a completely under-lent market," he said. "We're just making sure the grease is in the engine and we get everything working, then we're going to open the doors. Our strategy is to convince institutional capital that we can deliver the returns that we predict in our models."
The company began in 2012, has 50 employees, and will expand to Kenya, its first location outside South Africa, during the first half of next year by partnering with Barclays. Then it will turn to Zambia, Emery said.
RainFin is in talks with about four peer-to-peer venture capital companies to buy a stake in the company, Emery said. Barclays Africa Group Ltd. won't increase its share to more than half because of regulatory constraints, he said.
Default rates ranged from less than 1 percent on the least risky loans to as much as 11 percent in the fifth and most hazardous category, the CEO said. Borrowers can raise as much as 500,000 rand for terms as long as 48 months and the annual interest rate for a loan is 10 percent to 33 percent.
A survey by RainFin showed that 93 percent of respondents expected lower costs on a loan from a company like his than from a conventional bank, Emery said.
LendingClub, the largest U.S. peer-to-peer lender, started in 2007 and last month forecast its revenue will grow to more than $405 million this year. The online industry arranged about $12 billion of loans in the U.S. last year, Morgan Stanley said in a report in May.
Before it's here, it's on the Bloomberg Terminal.
LEARN MORE