Australia Leadership Speculation Rises Before Special Election
Finance Minister, Treasurer dismiss gossip on Abbott's future

Abbott says he has no plans to call an early election
Senior Australian government ministers sought to hose down speculation Prime Minister Tony Abbott could face a fresh leadership challenge as soon as this week.
Finance Minister Mathias Cormann said in an Australian Broadcasting Corp. television interview that he backed Abbott, 57, to stay as prime minister. On ABC radio, Treasurer Joe Hockey called speculation that Communications Minister Malcolm Turnbull would challenge for the job "just commentary and gossip."
Leadership noise has escalated ahead of a special election in a Western Australian seat on Sept. 19 that will be a litmus test for the national government's popularity. A move to replace Abbott is "absolutely inevitable," The Australian newspaper reported Monday, citing ministers it didn't identify.
The Sydney Morning Herald reported some lawmakers were pushing for a challenge to Abbott within his ruling Liberal Party this week before parliament goes into hiatus until Oct. 12. A spokesman for Turnbull's office declined to comment.
Abbott narrowly survived a leadership contest in February, triggered by concerns over his political judgment and a stalling economy. Seven months after he pleaded with lawmakers to give him six months to turn around the government's performance, the ruling coalition's poll ratings suggest it would lose power after one term in office to Labor in an election due to be held next year.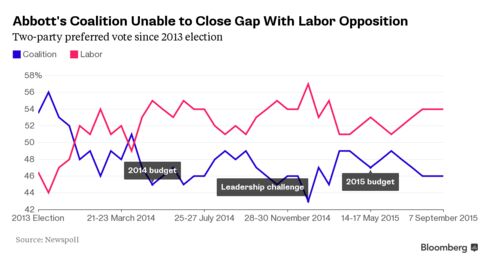 Polls show Turnbull, 60, a former investment banker and leader of the Liberal Party until he was ousted by Abbott in December 2009, is about three times more popular than Abbott with voters.
"I am not going to get caught up in Canberra gossip," Abbott told reporters on Monday. He said he wouldn't call an early election, with the government to continue until at least mid-2016.
A Fairfax-Ipsos poll published Monday of 1,003 voters in Canning found the Liberals may narrowly hold the seat even with a 10 percent swing from the party. The ballot is being held due to the death of a sitting Liberal member.
Before it's here, it's on the Bloomberg Terminal.
LEARN MORE