After 64% Plummet, Bond Traders See Commodity Bust's Next Victim
Cobre del Mayo's default risk rises as copper tumbles

Company's $12 million bond payment is 24 times free cash flow
Cobre del Mayo SA spent $2.40 on every pound of copper it sold in the first half. With the price at $2.45 and a $12 million bond-interest payment looming, that's a problem.
A 64 percent plunge in the price of the company's 2018 bonds this quarter shows investors are pricing in the likelihood that Mexico's Cobre del Mayo may default. It would be the region's first mining casualty amid a global commodities collapse that has rocked economies and producers from Mexico to Brazil.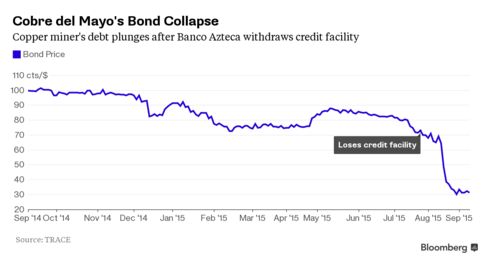 The junk-rated company became one of 11 miners globally that suffered credit downgrades last month when Moody's Investors Service and Fitch Ratings cut their ratings on Cobre del Mayo after a local bank canceled a financing line. The credit risk of miners in Latin America -- including silver company Fresnillo Plc and iron-ore producer Vale SA-- has surged this year, data compiled by Bloomberg show.
"It's a tough market for anyone in materials and mining right now," Wilbur Matthews, chief executive officer of Vaquero Global Investment LP, which oversees more than $100 million, said from San Antonio, Texas. "They need to be able to draw on financing to get them through the rough patch."
Cobre del Mayo's chief executive officer, Adriana Sandoval, declined to comment in an e-mail.
The average yield on more than 60 dollar bonds sold by metal and mining companies in Latin America rose to 8.2 percent on Thursday from 6.6 percent at the end of 2014, data compiled by Bloomberg show. The securities have lost 7.4 percent this quarter.
Cobre del Mayo's 2018 bonds led the decline, falling to 31 cents on the dollar Friday from 85.5 at the end of June.
The company is in trouble because its production costs dwarf those in the industry. Its $2.40-per-pound expense, reported in a financial statement obtained by Bloomberg, is just five cents below the metal's closing price last week. That compares with $1.12 a pound in the first half for Southern Copper Corp. Chile's Codelco spends $1.40 and Phoenix-based Freeport-McMoRan Inc. spends $1.50.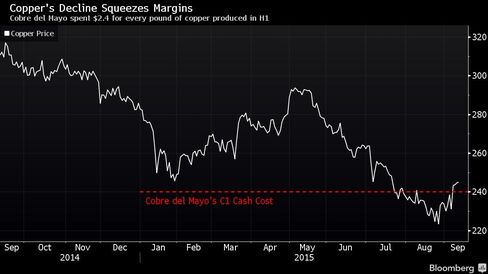 Copper's 21 percent plunge in the past year has eroded the closely held company's free cash flow to just $500,000 in the second quarter, according to financial statements on its website. Moody's and Fitch cut their forecasts for earnings before interest, taxes, depreciation and amortization, another measure of cash flow known as Ebitda, to between $25 million and $30 million this year from a previous estimate of $80 million.
One positive is that the outlook for copper is improving as miners including Freeport McMoRan and Glencore Plc cut production and after protests affected production at Codelco's flagship Chuquicamata mine. Stockpiles in China fell in August to the lowest in 21 months, helping the metal rebound from a six-year low reached last month. Mexico's peso gained 0.2 percent Monday to 16.8108 per dollar as of 1:12 p.m. in New York, trimming its decline this year to 12 percent.
With falling oil prices and a weaker peso reducing costs, the company "may still be profitable with prices where they are, but cash is insufficient without shareholder support," said Jay Djemal, a Fitch analyst for Latin American mining companies. Fitch cut the miner's rating on Aug. 18 to CCC, which implies a default is possible though not inevitable. "The downgrade took into account a much higher refinancing risk and the possibility of shareholder support, which has been forthcoming in the past."
Cobre del Mayo is in talks with Banco Azteca, which cut a credit line on July 31 after telling the company it was in violation of its terms.
"They are actually better placed on the global cost curve than most people think," Matthews said. "But copper prices are down so they are right around cost. They need to get a financing package in place."
Before it's here, it's on the Bloomberg Terminal.
LEARN MORE