The Year 2015 Is Shaping Up to Be Another Time When Everything Moves in Tandem
All together now, asset classes.
Investment nihilists, this one's for you.
The below chart, from CreditSights, shows the difference between the best-performing asset class and the worst-performing asset class on an annual basis. The gap has been shrinking in recent years, and 2015 looks set to be no different, according to analysts Glenn Reynolds and Nathan Wenger.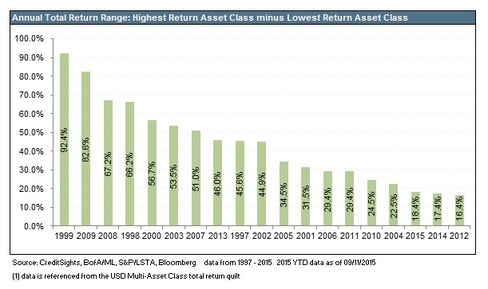 After the first eight months of the year, the difference between the best- and worst-performing asset classes is running at an annualized pace of 18.4 percent, low enough to keep 2015 in the bottom six years.
All but one of the bottom are years following the 2008 financial crisis, when low interest rates and unconventional monetary policy helped float all asset-class boats, so to speak. The notable exception is 2013, when rumors of a looming interest rate hike by the Federal Reserve caused some markets to sell off in what became known as the "taper tantrum."
With a potential rate increase this year still very much on the table, 2015 could yet shape up to be one of dispersion.
Here, courtesy of CreditSights, are total returns per asset class for previous years and as they stood at the end of August.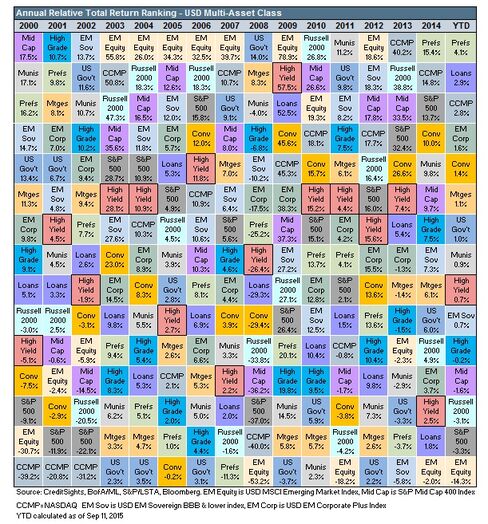 Before it's here, it's on the Bloomberg Terminal.
LEARN MORE