Sluggish China Output and Investment Signal More Stimulus
Fixed-asset investments increasing at slowest pace in 15 years

Government announces plans for reform of state enterprises
China's economic growth remains stuck below the government's target of about 7 percent this year, raising prospects for additional stimulus.
Bloomberg's monthly gross domestic product tracker was at 6.64 percent last month, barely changed from July. Industrial output missed economists' forecasts Sunday, while investment in the first eight months increased at the slowest pace since 2000.
In a juggling act that's getting more complex by the month, authorities are seeking to cushion the slowdown, support the stock market, stabilize the yuan and press on with reforms to open up the world's second-biggest economy. The latest steps include plans to reform state-owned enterprises, reductions to capital requirements for some investment projects, and efforts to lure more private money for public projects.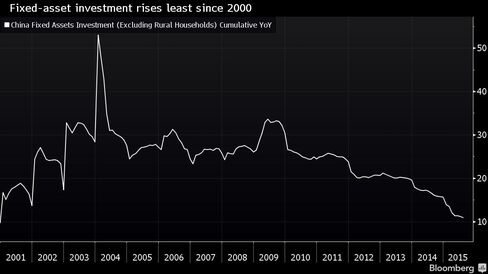 "The economy still faces serious downward pressure," said Wang Tao, chief China economist at UBS Group AG in Hong Kong. "The government will have to redouble efforts in pushing infrastructure investment in the rest of the year to stabilize growth."
The Shanghai Composite Index closed 2.7 percent lower at 3,114.80. The benchmark for Chinese shares has tumbled 40 percent from a seven-year high in June amid concern economic growth will continue slowing.
Five interest-rate cuts since November and plans to boost government spending have yet to revive an economy mired in a property slump, overcapacity and factory deflation.
Forecasts Reduced
"Monetary policy will likely maintain an easing bias, and fiscal policy may pull more weight in supporting growth," Eva Yi and Liang Hong at China International Capital Corp. wrote in a note on Sunday. They cut their forecast for China's growth in the third quarter to 6.5 percent from 7 percent and the fourth quarter to 6.6 percent from 7.2 percent.
China will make more efforts to reform "zombie enterprises," the State-owned Assets Supervision and Administration Commission of the State Council said in a statement Monday. Reforms will ensure SOE boards of directors can exercise power in making important decisions, SASAC said.
Private capital will be attracted to invest in infrastructure and public utilities, the National Development and Reform Commission said separately.
Capital Requirements
Meantime, China has reduced capital requirements for infrastructure investment projects in its latest move to boost capital spending. According to a notice published on the government website Monday, the capital requirement for port, airport and commercial property development projects will be reduced to 25 percent from 30 percent, while capital requirements for railways and road projects will be cut to 20 percent from 25 percent.
The change is aimed "to expand effective investment demand" and "to promote steady and healthy economic development," according to the State Council statement. Capital requirements in overcapacity industries from steel to cement remain unchanged.
Such structural shifts sit alongside the need for more immediate measures to support growth.
The finance ministry recently called for stronger fiscal policy to counter downward pressures. The country is raising the quota for a bond-swap program for regional authorities to 3.2 trillion yuan ($500 billion) to help ease debt pressure.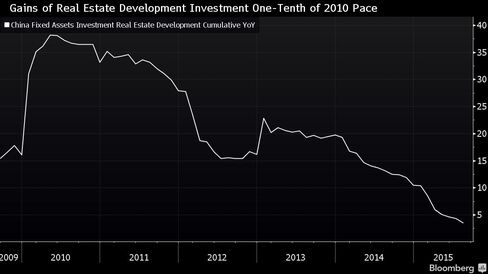 "From the perspective of monetary policy, the government has done what it can, but demand from the real economy needs to pick up to really make use of that," said Ding Shuang, chief China economist at Standard Chartered Plc in Hong Kong.
"Now the government can only rely on fiscal policy," Ding said. "The dept-swap program can help relieve pressure, and the government needs to expedite the pace to approve investment projects."
August data released Sunday showed a challenging picture for policy makers. Fixed asset investment excluding rural households climbed 10.9 percent in the first eight months versus 11.2 percent median projection of economists surveyed by Bloomberg, falling short for a sixth time out of the last seven reports. Industrial output rose 6.1 percent in August from a year earlier, missing the 6.5 percent estimate.
Factory shutdowns in Beijing and surrounding provinces before a Sept. 3 military parade in the capital may also have contributed to the weaker-than-forecast output reading. Even with a lower base in the comparison to the year-earlier period, there still wasn't much acceleration in output growth.
Premier Li Keqiang said last week that China can still maintain mid- to high-speed growth. Officials will press on with reforms to shift reliance from manufacturing and exports to services and consumption, he said last week at a forum in the Chinese city of Dalian.
Infrastructure Investment
"Growth stabilization measures will probably continue to intensify," Xu Gao and Yang Yewei at Everbright Securities Co. wrote in a note. They expect more infrastructure investment funding through expansion of local government debts, special financial bond and expedited bond issuance.
UBS expects infrastructure investment will grow by 20 percent or more this year to cushion the larger headwinds from the property slowdown.
The 10.8 percent retail sales growth was the bright spot in Sunday's data releases, beating the forecast of a 10.6 percent gain. Transactions picked up in part on higher food prices, signaling resilient consumption.
The retail sales data suggest that the stock-market slide won't deal a blow to household confidence and dent consumption, according to a note by Bloomberg Chief Asia Economist Tom Orlik in Beijing.
"Robust spending on roads, waterworks, and other public projects is offsetting the slowdown in capital spending in real estate and manufacturing," Orlik wrote.
— With assistance by Xiaoqing Pi
Before it's here, it's on the Bloomberg Terminal.
LEARN MORE