Macquarie Group Sees 40% Increase in First-Half Earnings
Expected increase in earnings beat analysts' forecasts

Lower Aussie dollar, higher performance fees boost profits
Macquarie Group Ltd. expects first-half profits to rise 40 percent from a year earlier as a weaker Australian currency, higher performance fees at its asset-management unit and increased client risk appetite boost earnings.
The expected increase in net income for the six months ending Sept. 30, revealed in a regulatory statement Monday, beat the 33 percentaverage analyst forecast in a Bloomberg survey. While asset-management performance fees may drop in the second half of the year, the Sydney-based investment bank said it expects profit for that period to be broadly in line with the first six months.
The expected result vindicates Chief Executive Officer Nicholas Moore's strategy of maintaining the strength of advisory and trading businesses after the global financial crisis, while expanding the firm's leasing and asset-management units. Full-year earnings are expected to rise 16 percent to a record A$1.86 billion ($1.3 billion), according to the mean estimate of 10 analysts surveyed by Bloomberg.
"The market-reliant businesses are finally coming to the fore," said T.S. Lim, a Sydney-based analyst at Bell Potter Securities Ltd. "It is the swing factor that Macquarie has been positioning itself for. Businesses such as asset management, lending and leasing have stabilized the profitability with market-facing businesses giving the boost as trading conditions improve."
CLSA Conference
The bank's shares rose 2.2 percent to A$77.45 as of 3:13 p.m. Sydney time. The advance took this year's gain to 33 percent, compared with the benchmark S&P/ASX 200 Index's 5.9 percent drop.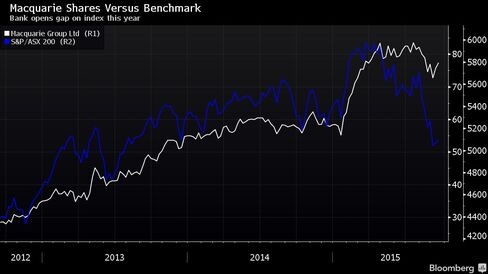 Macquarie's asset-management, leasing and lending units were delivering "superior returns," while its trading and advisory businesses were "well positioned to benefit from improvements in market conditions," the bank said Monday.
The firm released its statement ahead of a presentation Chief Financial Officer Patrick Upfold is making in Hong Kong this week at CLSA Ltd.'s annual investor conference.
The bank has maintained its advisory and underwriting staff strength over the three years to March 31, as it bolstered its presence in the U.S. while reducing its Asian investment-banking workforce. The firm is the second-largest merger adviser in Australia and third-biggest equity underwriter this year, according to data compiled by Bloomberg.
Currency Boost
Macquarie, which got 70 percent of its income from outside Australia last year, is benefiting from a 21 percent slump in the nation's dollar in the past year. A 10 percent decline in the currency will boost full-year net income by 7 percent, Macquarie said in a May 8 presentation.
Its asset-management unit, the largest profit contributor for the fiscal year ended March 31, is gaining from performance fees, which are levied on investors when returns from the sale of underlying assets exceed previously defined benchmarks.
Macquarie, which reports first-half earnings Oct. 30, did not disclose its expected performance fees in the statement Monday. The fees trebled to A$667 million last year, Macquarie said in May. The bank received A$208 million in the three months through June, it said the following month.
Before it's here, it's on the Bloomberg Terminal.
LEARN MORE