Japan Stocks Hostage to Yen as Correlation Jumps to Record
As recently as May, equities and currency moved independently

``For stock pickers, this is a hard market to invest in": Sera
After a brief falling out earlier in the year, Japanese stocks and the yen are inseparable again.
The correlation between the currency and the Topix index last week surged to a record, showing equities have been falling when the yen strengthens and vice versa.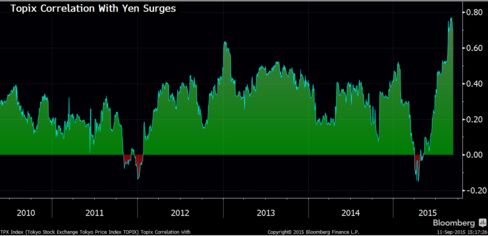 The trend is a return to what's become the norm under Prime Minister Shinzo Abe: central bank easing and global risk sentiment driving the Topix and yen in opposite directions. From January through June, the relationship broke down, with stocks showing they could rally without a weaker currency as investors focused on corporate governance improvements and company earning outlooks.
"Japan is back to becoming a macro trade," said Ayako Sera, market strategist at Sumitomo Mitsui Trust Bank Ltd in Tokyo. "For macro investors, this is great news, but for stock pickers, it's a hard market to invest in. It's likely to continue as we head toward the Fed meeting."
Economists surveyed by Bloomberg are about evenly split on whether the Federal Reserve will raise interest rates at its Sept. 16-17 meeting. Last month's surprise currency devaluation by China sparked a $6.9 trillion flight from global equities and a surge in volatility, leaving the Fed watching markets as much as markets are watching the Fed. The yen gained 3.9 percent amid the stock rout through last week, while the Topix fell 12 percent.
Global Moves
"Japan is again driven by global risk-off moves, so if global risk money flows out of Japan, it also leads to a gain in the yen," said Tomohiro Okawa, an equity strategist at UBS Group AG. When the correlation between the two broke down earlier this year, "capital was flowing into sectors that had nothing to do with the currency and were outperforming."
Insurers, retailers, banks and consumer lenders were some of the best performers on the Topix through the first half of this year, while exporters underperformed. The share gauge slipped 1.2 percent Monday, as the yen strengthened.
The 60-day correlation between the Topix and dollar-yen was at 0.7 on Friday. It touched 0.77 on Sept. 4, the highest in Bloomberg data going back to 1971, with a reading of 1 meaning the two measures move in lockstep. As recently as May, the correlation was zero, showing no relationship.
Chicken, Egg
NLI Research Institute's chief equity strategist Shingo Ide says he's struggling to decipher which asset is moving the other, or if investors are hedging their stock investments with the yen, causing them to move in tandem.
"I don't know which is the chicken and which is the egg," said Ide. "They're definitely linked. It could be that they're being bought and sold as a single-set trade."
Before it's here, it's on the Bloomberg Terminal.
LEARN MORE