Goldman Versus Barclays on Russia Has Ruble Traders at Wits' End
Goldman sees further 500 basis points of rate cuts by 3Q 2016

Barclays warns weaker ruble threatens to spur inflation
Traders in the ruble aren't getting much help from Russian policy makers on its future direction, with some of the biggest banks drawing different conclusions from last Friday's interest-rate decision.
Barclays Plc said the central bank will delay rate cuts until "inflation actually begins to decline," while Goldman Sachs Group Inc. predicted another 100 basis points of reductions by Dec. 31. Bank of Russia Governor Elvira Nabiullina kept interest rates unchanged for the first time this year on Friday, after a renewed selloff in oil triggered a plunge in the ruble and a pick-up in inflation.
After five successive rate cuts to 11 percent to battle the recession, Nabiullina may be taking into account the Federal Reserve's timing for monetary tightening, China's economic slowdown and oil prices before deciding on her next policy move. Lowering borrowing costs could spark a renewed consumer-price growth, while raising them could send the country deeper into recession.
"So far, there are no signs the central bank will be able to lower rates at the next meeting," Konstantin Artemov, a money manager at Raiffeisen Capital in Moscow, said by e-mail Friday. "The path of rates in Russia is largely outside of the central bank's control."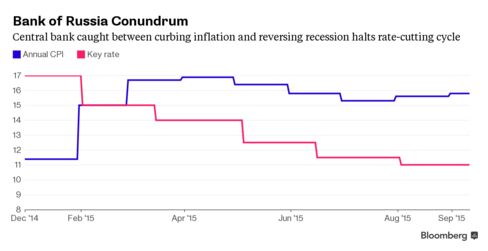 The Bank of Russia's rate pause brought no stability to the ruble. It fluctuated on Monday before gaining 0.3 percent to 67.70 against the dollar by 3:54 p.m. in Moscow, after climbing 0.7 percent last week. The currency is the second-worst performer after the Brazilian real in emerging markets this quarter, declining by 18 percent against the dollar. Goldman Sachs sees ruble falling to 69 per dollar in the next three months.
The central bank downgraded its forecast for gross domestic product in 2015, from a decline of 3.2 percent to between 3.9 percent and 4.4 percent, on the back of a deterioration in external conditions. Inflation, estimated at 15.8 percent as of Sept. 7, is set to slow to about 7 percent next September, it said. Oil prices will be at about $50 for the next three years, according to the central bank.
That prompted Goldman's Clemens Grafe and Andrew Matheny to predict the central bank will continue to add stimulus in 2016 as inflation slows, through 500 basis points of further rate cuts by the third quarter. The central bank will continue policy easing "as soon as possible" and the forecast for a deeper contraction points to "aggressive" cuts in the future, Credit Suisse Group AG economist Alexey Pogorelov said in a note to clients.
Barclays analyst Daniel Hewitt zeroed in on the statement's warning that the weaker ruble could feed through into quicker price growth. That implies policy makers "will more likely remain on hold again in October," he wrote in an e-mailed note on Friday.
Derivatives' traders are going even further, betting on tighter monetary policy in the coming three months. Forward-rate agreements suggest the Bank of Russia will increase the benchmark by 65 basis-points -- the most since mid-December when Russian markets were buffeted by sanctions over Ukraine and falling oil prices.
Oleg Kouzmin, an economist at Renaissance Capital in Moscow -- who has accurately predicted the past four rate decisions -- said currency volatility will ultimately be the deciding factor. It "fully depends on the ruble" whether Nabiullina cuts by a half point by year-end or keeps rates on hold in the period, the former central-bank adviser said.
Before it's here, it's on the Bloomberg Terminal.
LEARN MORE