German Border-Check Move Threatens Europe's Frontier-Free Ideal
Germany's decision to reinstate border controls under pressure from an influx of refugees risks inciting other nations to consider similar measures, testing one of the tenets of the European Union.
Europe's so-called Schengen agreement -- a system that enables people to travel through 26 European countries without border checks or visas -- faces the greatest threat to its 20-year existence, as it buckles under the burden of hundreds of thousands of people fleeing countries ravaged by conflict.
"Schengen is the essence of the European Union," said Camino Mortera, a research fellow at the Centre for European Reform policy group in Brussels. "Other countries may follow suit -- Hungary, for example, might think it would be a good idea -- and you could say that if Schengen were to collapse it could mean the whole idea of the EU is no longer valid."
Rattled by a debt crisis that rocked its single currency, the EU's fabric is now being frayed by the arrival of migrants from the Middle East and Africa. While free movement of people is one of the EU's underlying principles, some national governments have expressed frustration at their inability to control the flow of asylum seekers.
Germany -- which has said it expects 800,000 migrants in 2015, nearly four times last year's figures -- is becoming the ultimate destination for many escaping war-torn areas.
Temporary Measure
The German government said on Sunday the emergency controls would be temporary and focus on its southern border with Austria, where many of the refugees arrive in the hope of crossing into Europe's biggest economy.
It would help "limit the flood to Germany and return to an orderly process of entering the country," Interior Minister Thomas de Maiziere told reporters.
The move could trigger similar steps in other countries where growing anti-foreigner sentiment has nudged governments to stem the tide of migrants. Starting with the Czech Republic, which also shares a border with Austria.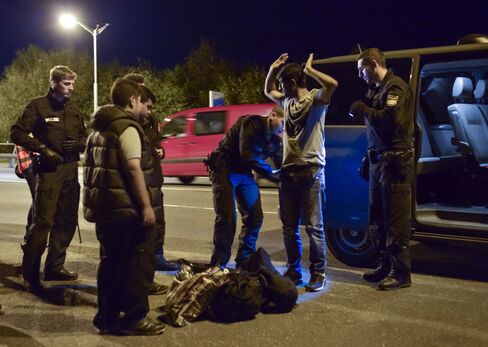 Czech Prime Minister Bohuslav Sobotka said his government was ready to take further security measures and boost police presence along its southern frontier.
Earlier this month Italy said it would temporarily reinstate border controls at Brenner, on its frontier with Austria. Hungary, the first EU port of call for tens of thousands of refugees who have traveled from the Middle East through the Balkans, is erecting a barbed-wire fence along its 175-kilometer (109-mile) border with Serbia -- a country not in either the EU or the Schengen area.
EU Foundation
The Schengen agreement, named after a small town in Luxembourg where European countries came together to sign its founding treaty, came into effect in 1995 and has removed most of Europe's internal borders, allowing people to travel hundreds of miles through many different nations without ever being stopped to show a passport. Most EU countries take part -- the U.K., most notably, does not -- and it also applies to some non-EU nations, such as Switzerland and Norway.
According to the legislation underpinning the arrangement, countries are allowed to temporarily suspend border-free travel for "national security" reasons.
Germany took advantage of this clause when it held a summit of G-7 leaders this year. Countries have taken similar measures during high-profile sporting events.
Sudden Move
It's the unplanned nature of the decision, announced at short notice, which could cause a chain reaction through the bloc. Greece and Hungary, where most refugees are arriving in Europe, are the likeliest countries to emulate Germany, said Pieter Cleppe, who leads the Brussels office of the Open Europe think tank.
"The danger is that these sort of temporary suspensions happen more and more and this would be a big hit for European corporations who benefit from the good aspects of the single market and open borders," he said. "It could be seen by opponents of the EU as the start of the EU's dismantling."
Anti-EU politicians have denounced Schengen for years, claiming that free movement of people across Europe's borders makes it impossible to curb illegal immigration and enables criminals and terrorists to easily travel and move weapons across the region.
They seized on the German announcement almost immediately, saying it would signal the end of the borderless dream.
"Schengen surely can't survive now," Nigel Farage, the leader of the U.K. Independence Party said on Twitter on Sunday evening.
Marine Le Pen, who leads France's National Front, tweeted "Bye bye Schengen!"
For more, read this QuickTake: Europe's Refugee Crisis
Before it's here, it's on the Bloomberg Terminal.
LEARN MORE