Corbyn Faces Party-Unity Challenge Amid Labour Resignations
Jeremy Corbyn is facing his first challenge as U.K. opposition Labour leader in uniting the party following a victory that sparked resignations by a string of Labour's most senior figures.
Corbyn, the party's most socialist leader in at least three decades, underlined his anti-austerity message by writing in the Observer newspaper that "you can't cut your way to prosperity." Although he pledged to bring together "ideas from all levels of the party," he now faces the prospect of a rebellion that threatens to tear Labour apart and hand the next election to Prime Minister David Cameron's Conservatives.
Critics including former Prime Minister Tony Blair have warned Corbyn's victory could keep Labour out of power for a generation, after a general election loss this year many blamed on voters' lack of confidence in the party's ability to manage the economy. A Survation poll for the Mail on Sunday showed 39 percent of respondents believe Labour will lose the next two elections, compared with 22 percent who disagree.
That's a prospect likely to be savored by investors. The FTSE 100 Index added 2.3 percent on the first day of trading after the Tories won a surprise parliamentary majority in the May 7 election, while the yield on 10-year gilts fell 5 basis points after plunging as much as 18 when markets opened.
Corbyn sped to appoint a shadow cabinet, naming his campaign manager, John McDonnell, as treasury spokesman. Andy Burnham, who came second in the leadership contest, will speak on home affairs, while Angela Eagle was given the business brief.
Many of Labour's most senior figures, including leadership contender Yvette Cooper and former business spokesman Chuka Umunna, ruled out working in his team.
'Zero Chance'
Labour's new Deputy Leader Tom Watson, elected in a separate ballot on Saturday, urged lawmakers to respect the mandate Corbyn has been given, rejecting speculation of rebellion within Labour ranks by saying there was "zero chance" of a coup. He warned would-be rebels that "there's always someone who can do a front-bench job," speaking on the BBC's "Andrew Marr" program on Sunday.
Corbyn, 66 years old, won almost 60 percent of the vote amid a surge of people signing up to support the party following its election defeat. Yet he is less popular among fellow lawmakers, fewer than 15 percent of whom voted for him. Asked who would make the best prime minister, 44 percent of respondents polled by Survation said Cameron, with Corbyn attracting 27 percent support. Survation surveyed 10,031 people online immediately after the Labour contest.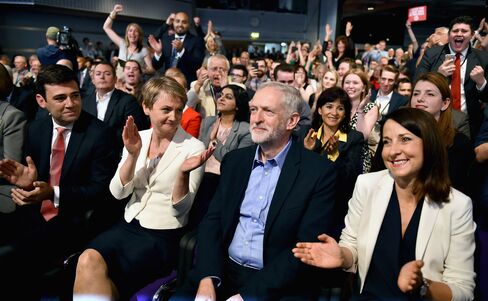 'Huge Change'
"This is a huge change for the Labour Party, there's no point in denying this is a huge political realignment too," Watson said. "But Jeremy Corbyn has a huge mandate from our members, and we are a membership organization. Something is going on out there."
Watson said that while he doesn't share all of Corbyn's views, "we both want to democratize the party. We want to re-lay our roots in every community."
While business groups congratulated Corbyn on his win, organizations such as the Institute of Directors sounded a note of caution, expressing hope the new leadership "will be prepared to listen" to businesses' concerns.
"It is no secret that business has not always seen eye-to-eye with the new leader of the Opposition," the IoD said in an e-mailed statement. "From renationalising the railways, to raising taxes on businesses and increasing government spending, Mr Corbyn has proposed some policies in the leadership campaign that we believe would undermine our open and competitive economy."
Corbyn, who spent much of his political career on the Labour Party's fringes, swept to victory after starting as a 200-1 outsider. He won over Labour supporters with his aim to scrap Britain's nuclear weapons, renationalize the railways and fund infrastructure projects with money printed by the Bank of England.
His election marks a decisive shift away from the free-market policies that brought the party electoral success under Blair.
Blair -- who repeatedly urged activists not to vote for Corbyn -- led Labour to three elections victories by accepting many of former Conservative Prime Minister Margaret Thatcher's free-market reforms, and distancing the party from socialist and pacifist positions.
Speaking on Marr, Conservative Justice Secretary Michael Gove suggested his party shouldn't dismiss Corbyn's chances of becoming prime minister.
"It's conceivable that Jeremy Corbyn could become prime minister and we have to face up to that," he said. "We need to lay out at this time the scale of the risk."
Before it's here, it's on the Bloomberg Terminal.
LEARN MORE