BlackRock Joins Pimco Finding Bond Sweet Spots as Fed Looms
Vanguard leads biggest investors counting on slow tightening

Low inflation, modest growth help create bond-friendly terrain
Faced with an imminent increase in U.S. interest rates, the biggest bond investors say it's not the time to abandon fixed-income assets.
Pacific Investment Management Co. and Fidelity Investments are betting the Federal Reserve will keep rates low until inflation accelerates from today's dormant levels. BlackRock Inc., the world's largest investment company, favors intermediate-maturity U.S. debt as the sweet spot mixing safety and liquidity with returns.
"The Fed will do a great deal to head off the probability that the market prices in too many forward rate hikes," said Gemma Wright-Casparius, who manages about $50 billion in Treasuries at Valley Forge, Pennsylvania-based Vanguard Group Inc., the largest private holder of Treasuries. Below-target inflation calls for only a gradual tightening of monetary policy, she said.
The major players in the $12.8 trillion Treasuries market say the Fed recognizes the need to stay cautious if it's to avoid pouring cold water on the economy. That has them convinced they aren't primed for the sort of losses associated with aggressive central-bank rate increases. Policy makers will release their policy decision on Sept. 17.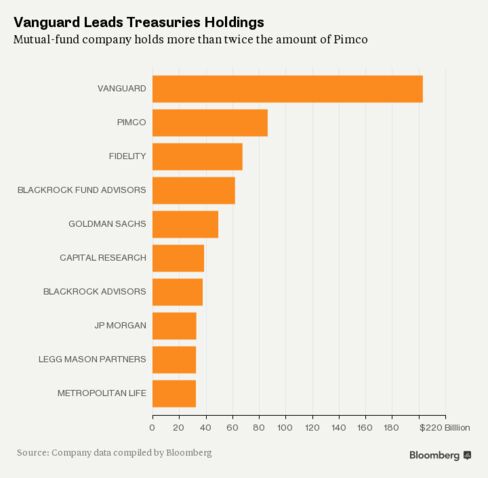 Benign inflation and uneven economic growth have left benchmark 10-year yields almost where they started the year. They were at 2.18 percent as of 12:33 p.m. in New York, according to Bloomberg Bond Trader prices, compared with 2.17 percent on Dec. 31.
Undaunted by the upcoming Fed meeting, investors piled into Treasury note and bond auctions last week. A group of buyers that includes foreign central banks and mutual funds purchased a record portion at the $13 billion auction of 30-year bonds on Sept. 10.
Exchange Traded Funds investing in government securities have seen inflows of $3.2 billion this month , according to data compiled by Bloomberg. This year, inflows total $12.4 billion.
The confidence stems from the underlying economic landscape, especially inflation that was 0.3 percent in July according to the Fed's preferred measure and has remained below the central bank's 2 percent target since 2012. Consumer-price increases are subdued because the cost of commodities has plunged more than 20 percent this year and crude oil has tumbled, while the dollar has surged amid continued monetary stimulus throughout Europe and Asia.
Economic Pace
Yet lower prices haven't noticeably stimulated U.S. consumer activity. The Commerce Department reported lower-than-forecast retail sales and personal spending in five of the first seven months this year.
"We do appear to be in a generally deflationary environment, and that does appear to be a concern," said William Irving, a Merrimack, New Hampshire-based money manager at Fidelity, which oversees about $2 trillion. Even after a rate increase, "monetary conditions are still fairly accommodative: the Fed has a large balance sheet, interest rates are very low."
Yields on longer-term inflation protected Treasuries, particularly the 30-year bonds, suggest a generation of stagnant consumer prices, Irving said. They are overly pessimistic, he said, and therefore are attractive, because given that much time, they are certain to revive.
In the past year, the strength of the dollar and disinflation around the world have pushed the outlook for inflation lower, leading to questions about the efficacy of a Fed rate increase.
Inflation Watch
"There's very little risk of them letting the inflation genie out of the bottle," said Robert Tipp, chief investment strategist in Newark, New Jersey for Prudential Financial Inc.'s fixed-income division, which oversees $533 billion in bonds.
Prudential is betting on a steeper yield curve with five-year notes outperforming 30-year bonds, Tipp said.
The central bank has held its target for the federal funds rate at virtually zero since December 2008. Markets for futures and swaps have a track record of pricing a slower pace of normalization than policy makers say is likely.
Following the Fed's September 2014 meeting, central bankers' median forecast for the benchmark rate at the end of 2015 was 1.375 percent, compared with the market prediction then of 0.76 percent. Current market rates project a funds rate of 0.81 percent 15 months forward, versus policy makers' call for 1.625 percent at the end of 2016.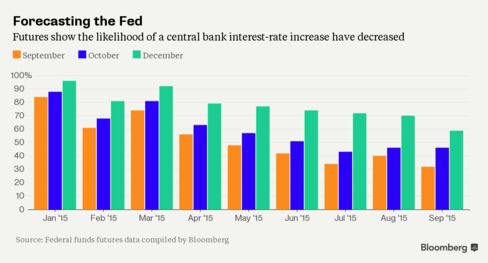 Some investors are concerned Fed officials may be correct that inflation is accelerating and a data-dependent central bank would move more quickly to raise rates, leaving bond portfolios with losses.
"Our view is they probably should go," said Scott Mather, co-manager of $98 billion Pimco Total Return Fund. "Any realistic model will tell you there's so much momentum in the U.S. economy that we'll be at full employment by the first half of next year."
In addition to favoring inflation-protected Treasuries, Mather said the best value is in the middle of the so-called yield curve, or maturities between five and 10 years.
"Inflation is going to go up dramatically as we head into the new year, just from year-on-year effects, and underlying core inflation is much higher than headline anyway," said Mather of Newport Beach, California-based Pimco. "So putting it all together doesn't really speak to holding policy rates at an emergency level."
Yield Outlook
Bond investors have been less willing to push bets on falling yields, even as riskier assets such as stocks and commodities have fallen. Treasuries have gained 1 percent this year, compared with a 6.2 percent return in 2014, according to the Bloomberg U.S. Treasury Bond Index, while the 10-year yield is forecast to end the year at 2.48 percent, according to the median forecast in Bloomberg survey of analysts.
Much will ride on central-bank policy makers' ability to communicate their plans after an initial rate increase.
Emerging markets have suffered this quarter with the approach of Fed meetings widely seen as pivotal, with Chinese stocks falling 27 percent in dollar value as of Friday, while those in Brazil have plunged 30 percent. Investors have fled those economies seeking havens amid speculation that tighter monetary policy from the Fed may further slow global growth and lead to additional reductions in the commodity prices.
"Having more weight to Treasuries versus credit risk is our strategy," Jeffrey Rosenberg, chief investment strategist for fixed income in New York at BlackRock, which oversees $4.4 trillion. "You can't really see the inflationary threat, but you certainly can see the financial instability concern."
Before it's here, it's on the Bloomberg Terminal.
LEARN MORE