Paying for Refugees, Jeb Calls in Heavy Hitter: Saturday Wrap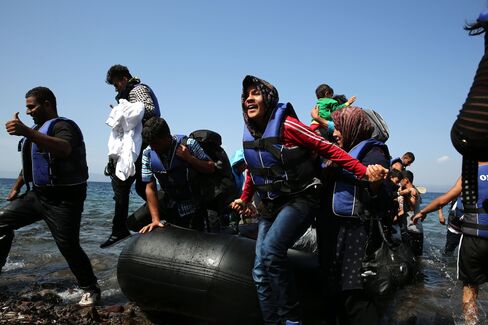 Here are highlights of Saturday's top breaking-news stories:
The European Union is considering allowing states to exceed budget-deficit rules if the costs of the refugee crisis stretch government finances beyond currently agreed limits.
EU finance ministers meeting in Luxembourg made what were termed "important advances" toward a financial transactions tax.
European Central Bank President Mario Draghi said a review of Greek banks could finish up by the end of October -- which could allow banks to access some recapitalization funds from Greece's bailout relatively quickly.
A European deposit-guarantee system will have to wait until financial-stability measures already on the books are fully implemented, German Finance Minister Wolfgang Schaeuble said.
Jeb Bush is enlisting his sister-in-law, former First Lady Laura Bush, to help him raise money as he sags in Republican presidential polls in the U.S. Donald Trump, for his part, gave a speech and managed to make no headlines.
Georgia Institute of Technology may be one of the best higher education values for low-income students in the U.S., while students seeking a high likelihood of graduating from a public school should probably choose the University of Virginia, according to a new government scorecard. The website was introduced by President Barack Obama in his weekly radio address, after his administration in June abandoned a more aggressive plan to rate colleges against one another.
The U.K.'s main opposition Labour Party elected its most socialist leader in at least 30 years, signaling a decisive shift away from the free-market policies that brought the party electoral success under Tony Blair.
Foreign ministers from Russia, Ukraine, Germany and France said they made some progress in breathing life into a Ukraine peace agreement signed in February and, for the most part, not implemented.
Britain's inflation rate probably returned to zero in August, pushed down by a slump in oil prices that the Bank of England says is creating uncertainty about the outlook. Pakistan cut its benchmark interest rate amid falling oil prices.
Before it's here, it's on the Bloomberg Terminal.
LEARN MORE