Merkel Defends Refugee Influx Against Growing Criticism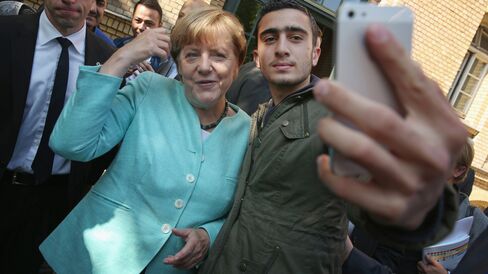 CSU ally cites `mistake we'll be dealing with for long time'

Chancellor says every EU member state must address crisis
German Chancellor Angela Merkel defended her decision to allow thousands of unregistered refugees into the country, countering criticism from within her party that the influx of migrants is spinning out of control.
"We made a decision last week in an emergency situation," Merkel told a conference of her Christian Democratic Union in Berlin on Saturday. "I think it was the right one, I'm very convinced of that."
As a wave of refugees poured into Germany, many fleeing the civil war in Syria, Merkel lifted European Union registration requirements for thousands of migrants seeking to get out of Hungary. The surge at the border was part of an estimated 800,000 refugees expected to head for Germany this year.
While Merkel said last week's decision was exceptional, she's confronting a growing chorus of critics in her faction who say that the chancellor compounded a flood of migration that can't be stopped.
Losing Control
"That was a mistake that we'll be dealing with for a long time," Horst Seehofer, the Bavarian prime minister and chairman of the Christian Social Union (CSU), told Der Spiegel magazine in an interview published Saturday. "We're soon entering a situation over which we'll no longer have control."
Another CSU politician, former Interior Minister Hans-Peter Friedrich, said earlier this week that Merkel's move was an "unprecedented political failure."
With tens of thousands of migrants fleeing war and poverty expected to arrive in Germany over the weekend and regional authorities struggling to find housing, Merkel said the region's biggest such crisis since World War II "is not just a responsibility of Germany, it's a responsibility of every member state of the European Union."
Merkel's government embraced a European Commission proposal this week to distribute 160,000 refugees across the 28-member bloc, as some governments rejected the resettlement plan for migrants seeking passage into the EU mainly through Greece, Hungary and Italy.
Turkey's Border
The chancellor said that Greece must "take on its responsibility" in protecting its border with Turkey, while EU authorities must "urgently" take up the issue with the government in Ankara.
Merkel also repeated her call to repatriate migrants who don't qualify for asylum. "They can't have a perspective to stay," she said, drawing applause from the CDU audience who had come for a digital technology conference.
The chancellor echoed a call from her foreign minister, Frank-Walter Steinmeier, that resolving conflicts such as the Syrian civil war can only be done in cooperation with the U.S. as well as Russia.
"Otherwise there will be no resolution," Merkel said.
Before it's here, it's on the Bloomberg Terminal.
LEARN MORE