European Bonds Stuck in Limbo as Traders Weigh ECB Against Fed
Inflation forecast by economists to hold at 0.2 percent

German scheduled to sell 30-year bunds day before Fed decision
European government-bond traders may face a challenging week as they contend with debt auctions as well as inflation data that may encourage the the European Central Bank to extend its stimulus program while the Federal Reserve could raise interest rates for the first time since 2006.
German securities ended this week little changed amid volatile stock markets that saw the Stoxx Europe 600 Index of shares swing from gains to losses. Next week, data will show euro-area consumer-price growth remained subdued in August. ECB officials have said that to combat downside risks to the region's inflation and growth they will continue their bond-buying plan, or quantitative easing, "until the end of September 2016, or beyond, if necessary." Meanwhile, economists surveyed by Bloomberg are almost evenly divided as to whether the Fed will increase U.S. rates on Sept. 17.
"The Fed will definitely be the elephant in the room next week," said David Schnautz, a London-based fixed-income strategist at Commerzbank AG. "Still, with inflation the ECB's only mandate and with the ECB trigger-happy to expand QE, the inflation data will be important. Also, hefty supply pre-FOMC will also keep euro government bond investors busy," he said, referring to the policy-setting Federal Open Market Committee.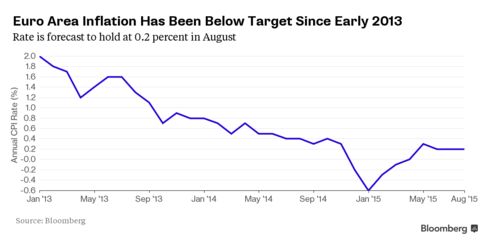 Benchmark German 10-year bunds yielded 0.65 percent as of the 5 p.m. London close on Friday. The price of the 1 percent security due in August 2025 was 103.32 percent of face value. Italian 10-year bonds rose for a second week, with the yield falling five basis points, or 0.05 percentage point, from Sept. 4 to 1.83 percent.
Germany is scheduled to sell 2 billion euros of bunds due in August 2046 on Sept. 16. France and Spain plan to auction debt a day later. The Madrid-based Treasury has also sounded out banks for the sale of a new 30-year government bond within weeks, according to people familiar with the matter.
As the monetary policy outlook for Europe diverges with the U.S., the yield gap between 10-year bunds and Treasuries has widened. The yield spread increased to 153 basis points on Sept. 10, the most on a closing-price basis since Aug. 18.
Commerzbank's Schnautz recommended being overweight bunds versus Treasuries next week as "the domestic data trigger tailwinds, but these should get offset by Fed-induced headwinds," he said. An overweight position is one in which an investor holds a bigger percentage of a security than is contained in the indexes used to monitor performance.
ECB Signals
ECB Governing Council member Erkki Liikanen Sept. 10 reiterated remarks by the central bank's president, Mario Draghi, when he signaled a week earlier that officials might expand stimulus if the rout in financial markets continued to weigh on growth and inflation in the euro area. Peter Praet, an executive board member at the ECB, said policy makers would be vigilant in making sure that financial-market turbulence didn't lead to any unwarranted tightening of monetary conditions.
Annualized consumer-price growth in the currency bloc held at 0.2 percent in August, matching an initial estimate, according to the median estimate of economists surveyed by Bloomberg before the data are released Sept. 16. The ECB's goal is just below 2 percent.
The average return on euro-area government debt was 0.5 percent this year through Sept. 10, according to Bloomberg World Bond Indexes. Treasuries earned 0.8 percent, the indexes show.
Before it's here, it's on the Bloomberg Terminal.
LEARN MORE