These Four Charts Show How Obama's Leverage Over Xi Is Increasing
From trade to Treasuries, the tables are turning
The tables are starting to turn.
For years after the global financial crisis, China's steady growth kept the world economy churning while the U.S. and other advanced nations slumped. Now, after China's summer of financial turmoil and increasing signs of a slowdown, President Xi Jinping's economic hand is weaker heading into his state visit to Washington later this month. Here are four charts that tell the story.
1. Growing dependence on U.S. trade
With sluggish demand around the world, China is increasingly reliant on American consumers and companies to buy its goods. In fact, if current trends hold, China will pass Canada this year as America's biggest trading partner. China's exports to the U.S. have climbed 6.1 percent in the first eight months of 2015 from a year earlier, compared with a 1.4 percent drop in exports worldwide. So Xi needs to ensure that America remains a happy customer, while President Barack Obama can rest easier from a trade standpoint, given that U.S. exports to China are a proportionally much smaller slice of the U.S. economy.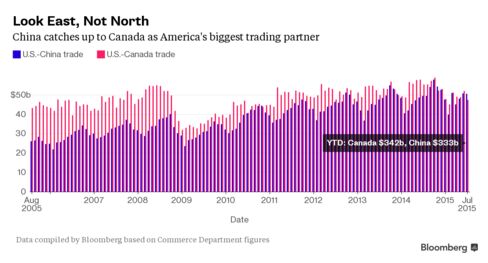 2. Gusher of capital outflows
Capital has flowed out of China to the tune of $610 billion in the 12 months through July 2015, compared with an inflow of $224 billion through July 2014, based on data compiled by Bloomberg. That's the worst pace in data going back to 2007. Because of the sharp pullback in investment, China has become and will remain a net exporter of capital "for the foreseeable future," putting money into manufacturing and real estate in the U.S., said David Dollar, a senior fellow with the Brookings Institution in Washington who was previously a U.S. Treasury official in Beijing.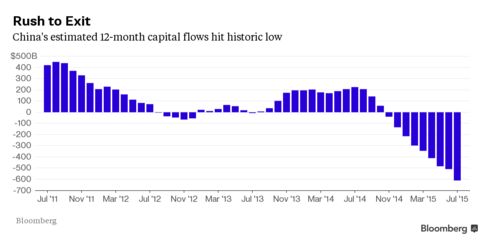 3. Plunging stocks, surging volatility
Apart from a dollar that's strengthened so much in the past year that China devalued the yuan, the stock market is a prime exhibit. After the Communist Party fostered a boom by urging citizens to buy equities, the market plunged just as quickly. The rout has made China's benchmark index much more volatile than its U.S. counterpart, undermining the perception that the Chinese government has a steady grasp on the economy and is ably managing the transition toward more open financial markets.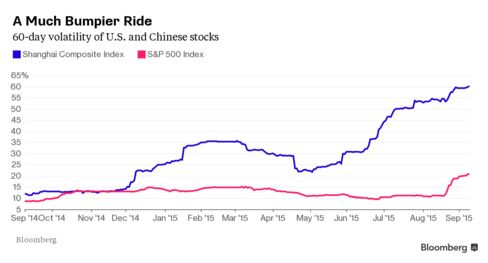 4. China isn't such a big holder of Treasuries anymore
China still holds $1.27 trillion of U.S. Treasuries, making it the biggest foreign holder of the government debt as of June. But its share of all foreign holdings of Treasuries has been steadily declining. That proportion stands at 20.6 percent, down from a peak of 28.2 percent in 2011. And it could be poised to fall even further: China's foreign-exchange reserves plummeted by a record $94 billion in August, after a $43 billion drop in July, as the government sold assets to defend the yuan.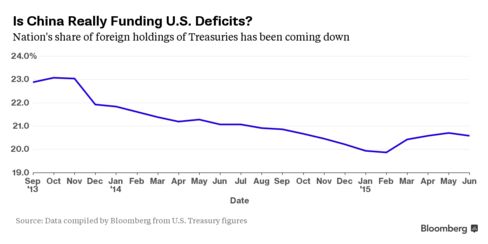 To be sure, while the U.S. economy is in "decent shape," China's is still growing at a much faster pace, said Hung Tran, executive managing director at the Washington-based Institute of International Finance. Not everyone agrees: Willem Buiter at Citigroup said that China in reality is growing at closer to a 4 percent pace, far below the government's stated rate of 7 percent. (The U.S. reported an annual pace of 3.7 percent GDP expansion for the second quarter.)
Before it's here, it's on the Bloomberg Terminal.
LEARN MORE