Singapore Lee's People's Action Party Wins Parliament Majority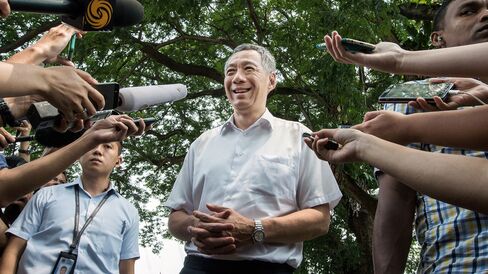 PAP secures 83 out of 89 parliament seats, opposition six

Election focused on living costs, immigration, housing
Singapore Prime Minister Lee Hsien Loong's People's Action Party extended its more than five decades of rule, securing a large parliamentary majority in an election where it had faced competition in every district and questions over issues from housing to welfare spending.
The party formed by his father and founding premier Lee Kuan Yew won 83 out of 89 parliamentary seats up for grabs, according to the Elections Department. The Workers' Party, the nation's most successful opposition party, collected six seats, narrowly holding onto its only multi-seat district after a recount.
The election called last month in Southeast Asia's wealthiest state was the first where every seat was contested, and gave candidates nine days to tell voters how they'd tackle matters like immigration and living costs.
As the results came out, Lee was lifted on the shoulders of supporters and carried around a stadium in central Singapore while people chanted in support of the PAP. The party's share of the popular vote was almost 70 percent, he told reporters.
"I believe these results will greatly bolster confidence in Singapore and in Singapore's future," Lee said. "We are trustees and stewards, we're elected to take care of Singapore to the best of our ability and we will have to account for our performance at the next general election."
The results marked an improvement for a party that won in 2011 with its smallest share of the popular vote -- about 60 percent -- since 1965. After that election the government shifted further from a decades-long policy of maintaining budget surpluses in order to boost spending on lower-income families and the elderly. It limited work passes for foreigners, who make up more than a third of the island of 5.5 million people.
'Tried and Tested'
"Voters decided it was not a time to experiment, that it was better to go for the tried and tested brand," said Eugene Tan, an associate professor at the Singapore Management University and a former nominated member of parliament. Regional insecurities and economic uncertainty probably contributed to that thinking, he said.
The PAP's fortunes were boosted by a groundswell of patriotism that followed massive celebrations last month to mark 50 years since the nation's modern founding. After the death in March of Lee Kuan Yew, who led the country for 25 years from independence, more than 450,000 people queued for as long as 10 hours for a glimpse of his coffin before his state funeral.
'Swung Back'
"Support has swung back," Foreign Minister K. Shanmugam said in an interview at Toa Payoh stadium. "Anytime the support levels are like this we actually have to approach it with a great deal of humility," he said. "Anyone in government has got to take into account all voices. The opposition is part of all voices, but there is also a silent majority."
The Workers' Party was re-elected to the multi-seat constituency of Aljunied in eastern Singapore after a recount which gave it about 51 percent of the vote.
"We all know that the opposition wouldn't form the government, they are far from it," said student Hendra Darmawar, 25, who attended a Workers' Party gathering at a stadium in northeastern Singapore. "But they are there for checks and balances. The opposition candidates are not charismatic enough and lack experience. Based on the results, the people are not ready for more opposition."
'Do Worry'
The Workers' Party drew tens of thousands to its pre-election rallies, with Singaporeans packing open fields in the suburbs to listen to Chairman Sylvia Lim speak. The Singapore Democratic Party saw the return of its chief Chee Soon Juan after he was cleared of bankruptcy in 2012. He was declared bankrupt after failing to pay S$500,000 ($354,000) for defaming PAP leaders during the 2001 election. Chee failed to win in the district he contested.
"I do worry," Chee said in a televised press conference. "If we continue on in this fashion, the future of Singapore is not going to be where we all want to see it go."
Challenges remain for a country facing an aging workforce and doubts over traditional pillars of growth like manufacturing and electronics. The export-driven economy has been damped by China's slowdown, uneven recoveries in the U.S. and Europe and a commodities slump. The Singapore dollar is set for its biggest annual loss since 1997 and its stock index is the second-worst performing Asian benchmark index in local currency terms this year.
"Expectations are raised and the government is trying, as they always have, to meet those expectations, but it gets harder and harder," said Jonathan Lemco, principal at the Vanguard Group, an investment company based in Pennsylvania with about $3 trillion under management as of Dec. 31. "My best guess is that Singapore over time, will eventually emerge as a democracy with a meaningful opposition."
Not Ready
"The results show Singaporeans are not ready for change," said veterinary clinic worker James Chua, 29, who attended the Workers' Party event. "I believe people are too comfortable with what they have. They may not have the most perfect lifestyle but maybe there is a fear of losing what they already have."
A record 2.46 million Singaporeans got the chance to vote, with casting a ballot compulsory for all citizens who are 21 and over. Politicians competed in single-seat wards or multiple-seat districts. The party with the most number of votes in a constituency sends all its members who contested that district to parliament.
"I am surprised," said Dennis Tan, an unsuccessful Workers' Party candidate. "I think it is a national sentiment but we need to study it further. It's not so much a set back for the Workers' Party but for Singapore as we need to develop an entrenched strong alternative voice. It will take time."
Before it's here, it's on the Bloomberg Terminal.
LEARN MORE