Merv Adelson, Lorimar Co-Founder Behind 'Waltons,' Dies at 85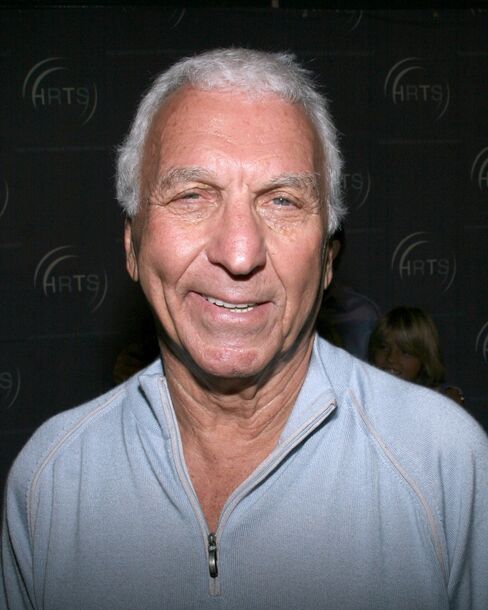 Merv Adelson, a grocer's son who became a Las Vegas real-estate developer and Hollywood producer of shows such as "Dallas" and "The Waltons," living on a grand scale until he filed for bankruptcy in 2003, has died at 85.
Adelson died of complications from cancer, according to the New York Times, citing a spokeswoman of his former business partner. First in Las Vegas, where he became known for doing business with suspected organized-crime figures, and then in Hollywood, where he tried to shed that reputation, Adelson was famous for big deals and high living.
In 1969, he and advertising executive Lee Rich co-founded Lorimar Inc., which became Hollywood's largest independent studio. It produced successful television series beginning with "The Waltons" in 1972, followed by "Eight Is Enough," "Dallas," "Knots Landing" and "Falcon Crest."
Adelson took Lorimar public in 1981 with the help of Drexel Burnham Lambert. As a client of Michael Milken, the firm's junk-bond chief, Lorimar went on a buying spree in the mid-1980s. One acquisition was The Brillstein Company, founded by Bernie Brillstein, the personal manager-turned-producer.
"Merv was handsome and soft-spoken, with gray hair and a habit of checking himself out in the mirror," Brillstein recalled in "Where Did I Go Right?" his 1999 memoir. On why Adelson had bid $26.5 million for his company -- more than twice the sum offered by rival Columbia Pictures -- Brillstein wrote: "He had pretensions to grandeur and wanted to be a bigger player in the entertainment world."
First Place
In 1986, Lorimar merged with Telepictures Corp., a fast-growing TV company that produced shows for non-primetime hours. The combined company, Lorimar Telepictures Corp., catapulted to first place among suppliers of original TV programming in 1986.
Without Rich, who left to head MGM/UA Communications, Adelson struck deals to buy the historic Metro-Goldwyn-Mayer movie lot and Metrocolor Film Laboratory for $190 million.
As Adelson added movie production, ad agencies, a home-video company, radio programming, publishing and TV stations, Lorimar attracted a number of Hollywood's rising executives, among them Peter Chernin, later the president of News Corp., Leslie Moonves, later the chief executive officer of CBS Corp.; and Brad Grey, later the CEO of Viacom Inc.'s Paramount Pictures.
Nevertheless, Lorimar proved less successful at creating films than it had been with television. One of its few hits was "An Officer and a Gentleman" (1982).
Warner Sale
By mid-1987, Lorimar was scrambling to sell its ad agencies, publishing business and TV stations and had to seek concessions from lenders. In early 1988, Adelson began talks to sell the company to Steven J. Ross's Warner Communications Inc. The $1.2 billion sale was completed in January 1989, a stock swap that made Adelson one of Warner's largest individual shareholders.
He served briefly as vice chairman until Warner was sold to Time Inc. the following year. He formed a private-equity firm called East West Venture Group.
Adelson remained a Time Warner Inc. director until 2000, when his shares were valued at $100 million. Just three years later, he filed for personal bankruptcy in Los Angeles, having held all his Time Warner shares as the stock lost more than 80 percent of its value.
Fortune magazine reported that Adelson had borrowed heavily against his Time Warner stock to invest in the dot-com Internet boom while maintaining a lavish lifestyle that included grand homes and private planes.
"I lost a lot of money," Adelson told the Los Angeles Times in 2010, when he became an adviser to Warner Bros. on new-media start-ups. "It's no secret much of it was lost in the AOL-Time Warner merger."
Park View
For a time in the 1980s, he had a seven-room Manhattan apartment overlooking Central Park as well as homes in Malibu, Bel Air and Aspen. He was an active fundraiser for Jewish and Israeli causes, became a personal friend of Israeli Prime Minister Benjamin Netanyahu and spent a night at the White House during Bill Clinton's presidency.
In its March 2013 edition, Vanity Fair said Adelson, at 83, was living in a 500-square-foot apartment off the beach in Santa Monica, California.
"You know, there was a time I could pick up the phone here, call my pilot, and I could be in Paris the next morning," Adelson said, according to Vanity Fair. "But not anymore. I won't be namby-pamby and say I don't miss all that money. I do. But I've learned to do so much on my own."
Mervyn Lee Adelson was born on Oct. 23, 1929, in Los Angeles to Nathan and Pearl Adelson. He attended Menlo Junior College in northern California. He told Fortune that he dropped out of college to play semi-pro baseball, giving up the sport later because he couldn't hit curve balls.
Opened Grocery
With a $10,000 loan from his father, Adelson opened the first 24-hour grocery in Las Vegas, in 1953.
He became a land developer, partnering with casino owner Morris "Moe" Dalitz and others to secure $100 million in loans from the Teamsters Central States pension fund for projects that included the famed Rancho La Costa resort near San Diego. Adelson's longtime business partner was Las Vegas developer Irwin Molasky.
In 1975, Penthouse magazine published an article with the headline, "La Costa: The Hundred-Million-Dollar Resort with Criminal Clientele." It portrayed La Costa as a rich man's playground that was established and frequented by organized crime figures.
Adelson called a press conference to announce a $540 million libel lawsuit. The case dragged on for 10 years before it was settled in 1985 without either side collecting a penny. In a letter, Penthouse said it "did not mean to imply nor did it intend" for readers to believe that Adelson and Molasky "are or were members of organized crime or criminals."
No Digging
In his interview for Vanity Fair's 2013 article, Adelson acknowledged that he made an effort not to seek answers to widespread questions about Dalitz's ties to organized crime.
"Look, I knew Moe knew a lot of bad guys," Adelson said. "I knew that. But I never saw one moment, in all the time I knew Moe, of him losing his temper or mistreating anyone in any way. It was all just innuendo."
Lorimar was named in part after Adelson's first wife, his high-school sweetheart, Lori Kaufman. Their marriage ended in divorce, as did Adelson's three subsequent marriages, including one to television anchorwoman Barbara Walters in 1986.
"Merv seemed bigger than life," Walters recalled in her memoir. "He skied, rode horses, played golf and tennis, sailed. He wore jeans and T-shirts when every man I knew in New York was wearing navy blue suits and ties. And he lived as if there were no tomorrow."
Before it's here, it's on the Bloomberg Terminal.
LEARN MORE