India's Factory Output Rises in July as Data Revisions Continue
Grows 4.2% in July vs 3.6% median estimate in survey

June's output number was revised to 4.4% y/y from 3.8%
India's factory output rose more than estimated in July amid data revisions, clouding the outlook for investors who're looking at underlying indicators to assess the true strength of the world's fastest-growing major economy.
Industrial production grew 4.2 percent in July from a year earlier, the Statistics Ministry said in a statement, compared with a 3.6 percent median prediction in a Bloomberg survey of 34 economists. However output slowed from the previous month, after June's growth figure was raised to 4.4 percent from 3.8 percent.
* July electricity production rose 4.2 percent; consumer goods 1.3 percent; capital goods expanded 10.6 percent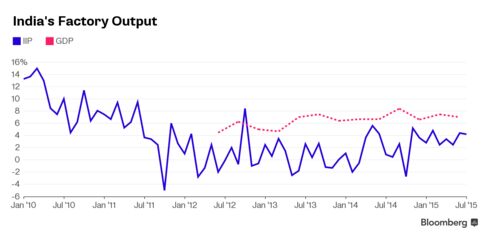 Before it's here, it's on the Bloomberg Terminal.
LEARN MORE