ECB Said to Add More Than 200 Banking Regulators in Hiring Push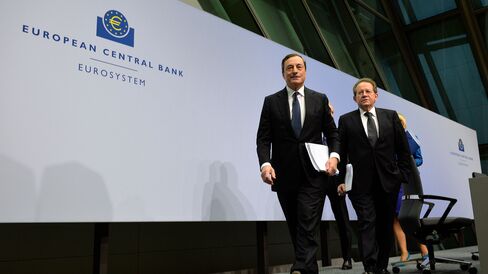 Increase in staff levels could inflate costs for lenders

Banks have raised capital levels since ECB supervision began
The European Central Bank is stepping up supervision of euro area banks with plans to recruit about 230 people for its regulatory arm, an increase of about 25 percent, according to a person with knowledge of the matter.
Two-thirds of the hires at the ECB's Single Supervisory Mechanism will be made next year and the remainder will join in 2017, said the person, who asked to remain anonymous as the matter isn't public. The SSM, which is based in separate quarters in the heart of Frankfurt's financial district, has about 1,000 staff.
The ECB assumed oversight of euro area banks in November to help restore confidence in the financial system and nurse the bloc back to growth in the wake of the sovereign debt crisis. Almost one year on, Europe's biggest lenders have increased their capital levels and seen profits rise thanks to higher lending and economic growth.
The SSM, which is financed by contributions from the banks it oversees, will start charging lenders in coming weeks, said the person. The ECB declined to comment on the matter.
The ECB said in April that it expected to raise 30 million euros ($33.8 million) in levies for the last two months of 2014 and 296 million euros for all of 2015.
The central bank said at the time that its spending could rise, should it identify "areas that require additional supervisory attention."
Before it's here, it's on the Bloomberg Terminal.
LEARN MORE