West's Defense Jobs at Risk as Buyers Want Designs, Not Weapons
Buyers build up homegrown manufacturing capabilities

BAE Systems offers Type 26 frigate on design-only basis
The sale of warplane and naval designs to emerging markets is swelling Western corporate revenues while putting local manufacturing jobs at risk and loosening controls over sensitive military technologies, defense experts say.
The value of license-based arms contracts won by companies in Britain jumped 39 percent to $107 million in the past year, according to IHS Jane's. While that's a small proportion of the $13 billion total, the pace of growth suggests such deals could surpass equipment sales in 10 years, said Alexandra Ashbourne-Walmsley, an independent consultant on defense purchasing.
"They'll get the money, but that won't necessarily keep the production lines open," said Ashbourne-Walmsley, who predicts U.K. manufacturing will suffer as the trend picks up.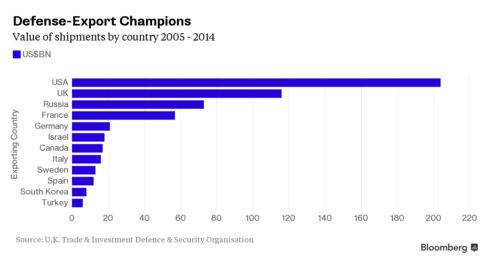 Governments in the Middle East and Asia are leading the way in demanding a bigger role for local industries beyond assembly packages and offset deals. Under the new model states pay manufacturers for blueprints valid for a set period, presenting a challenge in retaining control once copyrights expire.
Clone Wars
"The West is seeing this particularly with China," said John Louth, a defense-industry research fellow at the Royal United Services Institute. "It's very difficult to physically protect a piece of technology once you've given it to a third party. They can cut and paste and clone it."
The shift comes as the exportability of arms becomes a key factor in Britain's investment decisions. A product like the Foxhound armored vehicle is so costly at 900,000 pounds ($1.4 million) that further sales potential is limited, and would today be built to a lower specification, Minister for Defence Procurement Philip Dunne said in an interview in London.
BAE Systems Plc, Europe's biggest defense company, is supplying Thailand with designs for offshore patrol vessels and says it will look at licensing intellectual property for programs including the Type 26 frigate. London-based BAE has 1,200 patents globally, with 2,100 pending.
Turkish Fighter
"At times these solutions include intellectual-property licensing arrangements," spokeswoman Kristin Gossel said.
Poland is working with France's Thales SA on unmanned aerial vehicles, while Turkey may license the Eurofighter Typhoon's Eurojet EJ200 engine to power a home-built fighter.
The conundrum for governments is that ignoring the trend risks handing lucrative deals to rival companies and states, said Stephen Phipson, head of defense and security at the U.K. Trade and Investment department. The Ministry of Defence and Department for Business, Innovation and Skills oversee contract talks, seeking to secure intellectual property rights.
"You're no longer just flogging planes and tanks and missiles," Ashbourne-Walmsley said. "Customers are becoming more sophisticated. It's a sign of development."
Before it's here, it's on the Bloomberg Terminal.
LEARN MORE