BOE Says Rate-Increase Expectations Climb to Four-Year High
Half of people surveyed said rates will rise in coming year

Inflation expectations for next 12 months decline to 2%
The proportion of Britons saying interest rates will increase in the next 12 months rose to the highest level since 2011, the Bank of England said Friday.
Fifty percent of respondents to the BOE's August Inflation Attitudes Survey said the key rate, currently at a record-low 0.5 percent, will rise by next August, up from 38 percent in May. Twenty-six percent said the benchmark will stay about the same, 20 percent said they had "no idea" and the remainder said rates will fall.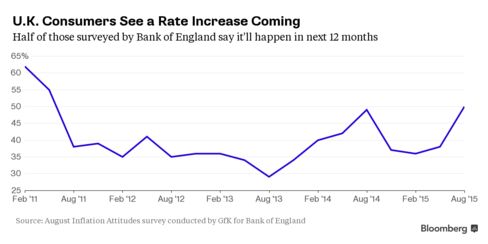 Officials have started to pave the way for higher borrowing costs. The Monetary Policy Committee said yesterday global headwinds to growth weren't enough to knock the U.K. off track. The economy has expanded for 10 consecutive quarters and wage gains are accelerating, prompting one member of the panel, Ian McCafferty, to push for an increase now.
The survey also showed that inflation expectations for the coming year dropped to 2 percent, which is the central bank's goal for price increases. Expectations for inflation two years ahead held at 2.3 percent, while the outlook for consumer price gains in five years time was unchanged at 2.8 percent. Asked about the rate of inflation now, consumers' median response was 2.1 percent, compared with the annual rate of 0.1 percent in July.
GfK NOP conducted the survey of 2,051 people for the central bank from Aug. 6 to Aug. 11.
Before it's here, it's on the Bloomberg Terminal.
LEARN MORE