BOE's Forbes Sees Scope to Start Increasing Key Rate Sooner
Says pound's drag on prices is critically important for rates

Forbes says currency volatility is challenging for exporters
Bank of England policy maker Kristin Forbes said new analysis about how the pound affects inflation means the central bank may need to start increasing interest rates sooner.
Understanding how Britain's currency affects prices is a "critically important" factor for officials as they focus on withdrawing emergency stimulus that's been in place since 2009, Forbes said in a speech in Cardiff on Friday. New analysis suggests a strengthening pound creates a smaller drag on import prices and implies that borrowing costs should start rising sooner to contain an inflation pickup, she said.
"Sterling's recent appreciation could create less drag on import prices and inflation than we might have expected if the levels of pass-through seen after the crisis persisted," Forbes said. "If this plays out, monetary policy would need to be tightened sooner than based on the older models."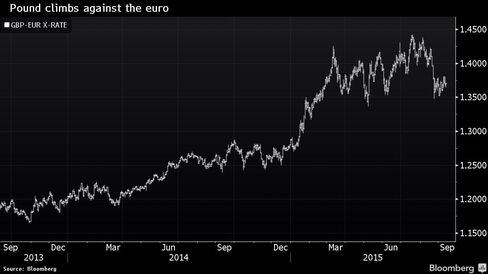 The pound has risen 9 percent on a trade-weighted basis since the start of 2014. Minutes of the central bank's September policy meeting published Thursday showed officials saw "considerable uncertainty" on how that strength will feed through to U.K. prices. Inflation is at 0.1 percent, well below the BOE's 2 percent target.
"Currency movements have been a key factor allowing the MPC to keep interest rates on hold, despite the solid recovery," Forbes said. "How sterling's most recent appreciation, and any future currency movements, affect prices will be a critically important determinant of when is the appropriate time to begin raising interest rates."
Rate Increase
In a separate interview with the Western Mail published after the speech on Friday, Forbes said "it is likely we will see interest rates increase sooner rather than later."
The pound fell against the dollar and was trading at $1.5414 as of 3:22 p.m. London time. The U.K. currency has climbed 1.6 percent versus the dollar this week, which would be the biggest gain since the week ending June 19. Sterling was at 73.21 pence per euro.
Forbes was among the majority of officials who voted this month to keep the key rate at a record-low 0.5 percent to use up slack in the economy, while Ian McCafferty maintained his call for a quarter-point increase, the minutes showed. The record also said global turmoil stemming from China's slowdown wasn't enough to dislodge the path for rate increases, which Governor Mark Carney said could come into "sharper" focus around the turn of the year.
Currency volatility "can create substantial challenges for exporters, but may simply be a fact of life to which we need to become accustomed," Forbes said in her speech.
"We have a surprisingly poor understanding of exactly how exchange rate
movements affect inflation," she said. "Some of what we have believed to be
key tenants in our understanding do not hold up terribly well in U.K. data. Most of what I learned in grad school on this topic no longer seems to apply."
New Approach
Forbes' new approach finds that industries with a bigger share of imports don't seem systematically more sensitive to changes in the pound. She also said sectors that have more international competition have only limited sensitivity to currency fluctuations, while the extent of the exchange-rate impact on consumer price inflation and import prices has changed over time.
"A better understanding of pass-through would improve our ability to forecast inflation and adjust monetary policy in advance as appropriate, avoiding the types of errors that lead to drama and heartache," she said.
Before it's here, it's on the Bloomberg Terminal.
LEARN MORE