Winter Is Coming for China Futures Traders as Volumes Tumble
Jobs at risk as trading in stock-index futures dries up

Government intervention drags trading volumes to record lows
China's futures industry is bracing for job cuts after a government campaign to prevent bearish wagers on the stock market sparked an unprecedented collapse in volumes.
"The nature of the market changed so quickly, throwing everyone from the top of the mountain to the bottom of the valley," said Xu Liping, research institution director at HNA Topwin Futures Co. in Shanghai. "Winter is coming, and maybe we will see many people lose their jobs if the situation lasts for a long time."
Trading in the country's CSI 300 Index and CSI 500 Index futures sank to record lows on Thursday, after falling 99 percent from record highs less than three months ago. China was home to the world's most active equity-index futures market until policy makers raised margin requirements, tightened position limits and announced investigations into "malicious" short sellers to combat a $5 trillion selloff in shares.
The tumble in volumes has wrong-footed an industry that expanded its registered staff by 50 percent since 2011 to 50,895 last year, according to data compiled by the China Futures Association. The slump may accelerate industry efforts to expand beyond just handling client orders into other businesses such as asset management, according to Cai Luoyi, the vice general manager of Shanghai Cifco Futures Co.
"The current standoff in the index futures market will speed up the changes in futures brokerages and companies may cut more staff in the so-called traditional brokerage business," Cai said. He added that the slump in index futures volumes may not last "long" as restrictions will be eased after the market stabilizes.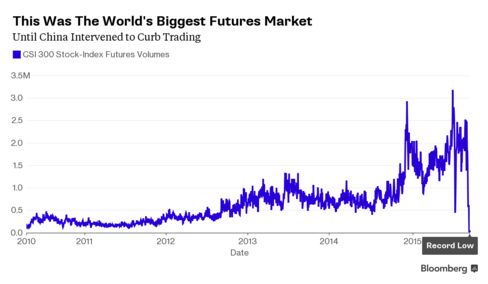 The benchmark Shanghai Composite Index dropped 1.4 percent at the close on Thursday, paring this week's gain to 1.2 percent. Trading in CSI 300 futures fell to a record 19,160 contracts.
Authorities are targeting futures because selling the contracts is one of the easiest ways for investors to make large wagers against stocks. It's also a favored product for short-term speculators as the exchange allows participants to buy and sell the same contract in a single day.
Yet futures are also a popular tool among sophisticated investors with longer-term horizons. For hedge funds, they provide an easy way to adjust exposure to market swings. And large institutions use them to make cost-effective asset-allocation changes.
The most pressing task for the industry right now?
"Proving that futures are innocent," said Dai Shenshen, a trader at SWS Futures Co. in Shanghai.
— With assistance by Alfred Cang
Before it's here, it's on the Bloomberg Terminal.
LEARN MORE