What the BOE Said on Interest Rates, Wage Growth and China
MPC votes 8-1 to keep rates on hold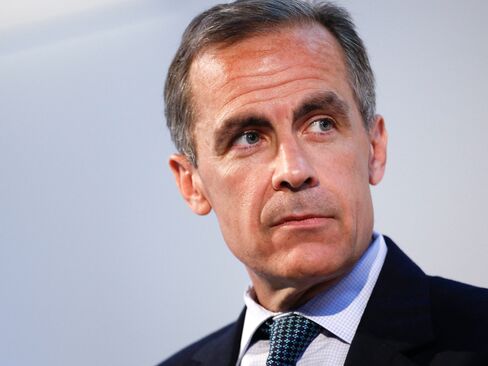 The Bank of England's Monetary Policy Committee voted to keep rates on hold and said events in China aren't yet enough to change its view of the U.K. outlook even though the situation warrants close monitoring. The minutes are available here.
Rate decision
The vote was 8-1, in-line with the median forecast of 24 economists surveyed by Bloomberg.
Ian McCafferty voted for second meeting in a row to increase Bank Rate by 25 basis points.
Rate path
When Bank Rate begins to rise it will do so more gradually than in previous cycles.
Bank Rate expected to remain below average historical levels for some time to come; this is an expectation, not a promise.
China
Global developments don't yet appear sufficient to alter materially the central outlook described in August.
Although developments so far might imply a fairly muted effect on U.K. activity, the balance of risks is probably more skewed to the downside than at the time of BOE's August forecasts.
Combination of slower growth in Chinese demand, weak commodity prices and prospect of Fed tightening likely to have an adverse effect on a number of emerging markets whose importance in the world has grown significantly.
Inflation
Bank staff continued to expect CPI inflation to rise to around 1 percent in early 2016.
Near-term outlook little changed since August Inflation Report, reflecting lower price of oil and stronger core inflation.
CPI likely to remain close to zero for a few more months before picking up around the turn of the year.
Volatility in oil price injected additional uncertainty.
Sterling
The sterling effective exchange rate had depreciated slightly since the Committee's previous meeting, and at the end of the Committee's meeting had been around 1 percent lower than the level used as starting point for the August Inflation Report projections.
Considerable uncertainty among members about extent of pass-through from movements in exchange rate to inflation; some of these members nevertheless saw continued upside risks to inflation relative to the target.
In August, MPC had said the recent appreciation of the sterling was likely to represent an additional tightening in financial conditions over and above the steepening of the sterling yield curve over the past few months.
Labor market
Annual unit wage cost growth of around 1 percent in the second quarter is some way short of what's needed to return CPI inflation sustainably to 2 percent target.
Slowing employment data might imply that labor demand had plateaued, and that this would keep pay growth muted; further improvements in productivity might also limit growth in unit wage costs.
It might though reflect greater hiring difficulties, with the likely consequence of more rapid growth in pay.
Before it's here, it's on the Bloomberg Terminal.
LEARN MORE