Turmoil Puts Off Lira Investors Even as Turkey Growth Surprises
Turkey's economy expanded 3.8% in 2Q, beating estimate of 3.1%

Lira and stocks trade lower, while trimming earlier losses
Investors remain wary of further economic fallout from Turkey's political turmoil, even after growth and current-account data comfortably beat estimates.
The lira, the third-worst performing currency in emerging markets this year, fell as much as 0.8 percent to a record low, before trimming losses after Thursday's better-than-expected reports. The benchmark Borsa Istanbul 100 Index was poised for its lowest close since Aug. 24.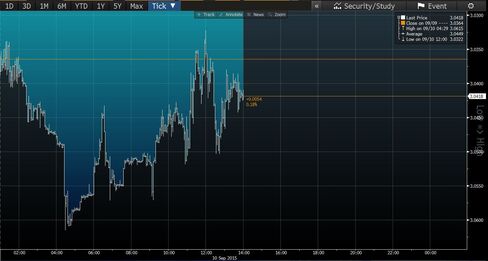 "You know there is something really wrong when you get decent GDP numbers, and better current-account numbers and the lira still sells off to record lows," Tim Ash, head of EMEA credit strategy at Nomura in London, said by e-mail. "The fundamental macro story is OK, even improving in some respects, but with weak domestic politics and the security situation, investors still prefer to stay on the sidelines."
Foreign investors have fled Turkish assets since an inconclusive general election in June plunged the nation into a political crisis, with a three-year truce with separatist Kurdish militants also collapsing. The surge in violence ahead of repeat elections on Nov. 1 drove the perception of risk, as measured by credit default swaps, to the highest level in three years.
Finance Minister Mehmet Simsek warned on Wednesday of further economic fallout if the next vote fails to produce a strong government.
'Fragile'
"I expect volatility to continue and the lira remains fragile," Pinar Uslu,
a strategist at Istanbul-based ING Bank, said by e-mail. "Domestic political uncertainties, security concerns and global risk sentiment should dictate the currency's direction."
Turkey's economy expanded 3.8 percent in the April-to-June period, Turkey's statistics agency said, beating a median estimate of 3.1 percent in a Bloomberg survey of 16 analysts. The current-account gap widened in July to $3.15 billion, compared with a median estimate of $3.55 billion.
The economy's expansion during the second quarter was largely driven by an increase in household consumption, which makes up two thirds of the economy. Residents' expenditures grew 5.6 percent on an annual basis, the fastest pace of expansion since the fourth quarter of 2013, Turkstat data showed.
Private-sector investments expanded 11.4 percent from the same period a year ago, the biggest jump since the third quarter in 2011 and the reason behind the better-than-expected GDP data, according to Inanc Sozer, Odeabank AS chief economist in Istanbul.
"The market may turn positive after initial reactions settle, because headline figures look strong," Evren Kirikoglu, a strategist at Akbank TAS in Istanbul, said by telephone. "But looking in more detail, the composition of growth isn't sustainable in the long term. It's largely driven by domestic spending, and this may raise questions about a more balanced composition of domestic and foreign activities."
Foreigners pulled more than $3.3 billion from Turkish bonds and stocks between June's election and the week ending Sept. 4, according to a Bloomberg calculation based on central bank data.
The violence in Turkey shows little sign of abating, with warplanes striking rebel positions in northern Iraq for a second day and the separatist PKK militants stepping up their attacks on soldiers and policemen.
Turkey has also been hit by declining sentiment toward emerging markets generally, ahead of an expected rate increase by the U.S. Federal Reserve.
Before it's here, it's on the Bloomberg Terminal.
LEARN MORE