QE-Aided Portuguese Shoppers Boost Borrowings as Banks Open Taps
New consumer loans from banks are above May 2011 levels

Portugal's household spending is rising the most since 2010
Portuguese families are in a borrowing mood -- again.
With the European Central Bank's quantitative-easing program pushing down borrowing costs, the Portuguese are buying cars and renovating homes by taking new bank loans -- excluding credit cards and overdrafts -- at levels higher than in May 2011, when the country's international bailout started.
Although new consumer loans are lower than in 2010, the gusto with which the Portuguese are borrowing and spending money is sparking concerns about the path the country's economic recovery is taking a year after it exited the bailout. It's a question politicians may need to address as the country heads into general elections next month.
"If this keeps up, it's almost inevitable that we will end up over-indebted again," said Filipe Garcia, an economist at Oporto, Portugal-based financial consulting company IMF-Informacao de Mercados Financeiros SA. "With the ECB keeping interest rates very low and banks shoring up their own problems, they are more willing to lend again. Supply is playing an essential part."
Portugal's consumers are being lured by cheap credit, showing ECB President Mario Draghi's QE efforts are beginning to work. The ECB's 1.1 trillion ($1.2 trillion) bond-buying plan has sent the yield on the Portuguese 10-year bond down to about 2.5 percent, a fraction of the more than 18 percent in 2012.
Interest rates for new consumer bank loans dropped to 8.1 percent in July, the lowest since April 2010, according to the Bank of Portugal.
New Loans
New consumer loans, including those granted by specialized lenders and revolving debt, rose 21.5 percent in June from a year earlier to 409.4 million euros. Auto loans amounted to 150.5 million euros, 42 percent more than in 2014, while loans for other purposes, including home renovations, rose 15 percent to 174 million euros, according to Bank of Portugal data.
Full-service banks were responsible for granting about 60 percent of new consumer loans last year, according to a report by business research company Informa D&B published in August.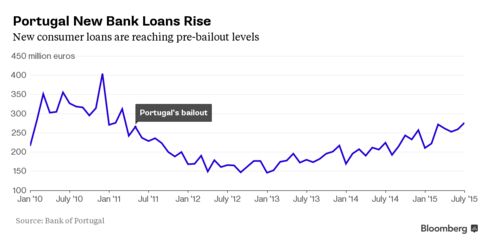 Total consumer credit is still roughly at the level it was in 2007, so the increase in new operations has to be put in perspective, said Paula Carvalho, an economist at Banco BPI SA. As confidence in the economy improves, it's normal to see an increase in demand for financing, she said.
Household Spending
Still, "the increase in consumer spending does spark some concern if it's not sustainable," Carvalho said.
Portuguese household spending rose 3.3 percent from a year earlier in the second quarter, the most since 2010, according to the country's statistics institute. Informa D&B expects new consumer loans to increase 15 percent this year.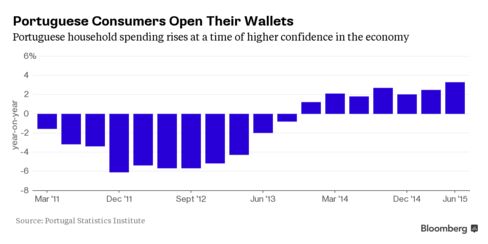 The recovery in consumer spending must be gradual and moderate so it doesn't threaten the sustainability of the country's external balance, the government says. Imports have been increasing more than exports for the past six quarters.
"Consumption shocks can be very attractive electorally," Economy Minister Antonio Pires de Lima said last week. "If we were to go back to an economic model that lifted consumer spending much higher, the pressure on our imports would be stronger than what we are already having in 2015."
Same Formula
In the first televised debate ahead of elections between Prime Minister Pedro Passos Coelho and Socialist leader Antonio Costa yesterday, Coelho said the country's main opposition party is basing its program on the same approach that "led the country to disaster."
"We don't need a consumer shock or stimulus, it's an adventure we don't want to pursue," Coelho said.
Costa said his proposals aren't a demand stimulus, "it's giving back families' income and creating conditions for companies to invest that the economy will grow in a sustainable way," Costa said at the debate.
The Socialists led by 1 percentage point in a Sept. 4 opinion poll published by newspaper Expresso ahead of the Oct. 4 elections. They're promising to reverse cuts to public workers' salaries and eliminate an income tax surcharge faster than the ruling coalition has proposed. The coalition has said it wants an economic recovery led by exports.
"I would say it's not a concern in the short term" as lending is being supported by a "super accommodative" ECB policy, Colin Bermingham, an economist at BNP Paribas SA in London, said in a telephone interview.
In the longer term, it "would be better if consumption is funded out of available income and doesn't have too much of an effect on savings," he said.
Before it's here, it's on the Bloomberg Terminal.
LEARN MORE