Puerto Rico Faces Higher Hurdles in Debt Restructuring Plan
BlackRock says commonwealth is facing a `real solvency issue'

Risk of additional debt defaults increases for investors
Now comes the hard part for Puerto Rico after the commonwealth unveiled a long-awaited proposal that calls for bondholders to accept less than they're owed as the island seeks to halt a more than a decade long economic slide.
Puerto Rico says it has $13 billion less than it needs to cover debt payments over the next five years, even after taking into account proposed spending cuts and measures to raise revenue. The commonwealth's advisers plan to present investors with a debt-exchange offer in a few weeks, as well as seeking a moratorium on principal payments.
Getting all the parties to the table quickly will be key. The island is set to run out of cash by the end of the year unless it can refinance debt. It also faces a $500 million shortfall in June, right before a $805 million payment to general-obligation bondholders comes due July 1.
"They have a real solvency issue," said Peter Hayes, who helps oversee $116 billion as head of municipal debt at New York-based BlackRock Inc. "They have a liquidity crisis on their hands that grows very dire by the end of the year."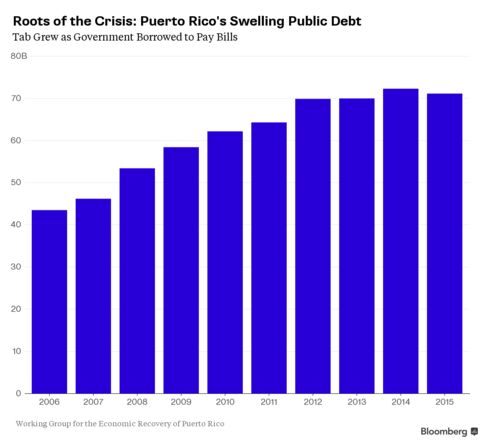 Governor Alejandro Garcia Padilla in June said the island was unable to repay all of its obligations on time and in full and directed his administration to analyze how it can ease its debt load. Puerto Rico is unable to use traditional methods for reducing debt. Its municipalities cannot file for Chapter 9 bankruptcy protection and a local debt-restructuring law enacted in June 2014 was thrown out by a federal judge in San Juan.
The parties may still find themselves in court. Puerto Rico defaulted last month when its Public Finance Corp. skipped a $58 million principal and interest payment after lawmakers failed to allocate the funds because of a budget crunch. It also missed a Sept. 1 interest payment.
"I'm wondering if a debt service missed payment like they did on PFC will become more the norm for some of these other entities," Hayes said. "Perhaps as a negotiating tactic or perhaps as just a way to maintain solvency."
Puerto Rico officials estimate that the island will have only $5 billion of available funds to repay $18 billion of debt service on $47 billion of debt, excluding obligations of its electric and water utilities.
The plan made public Wednesday and crafted by Garcia Padilla's top officials, called the Working Group, paints a dire picture of Puerto Rico's finances and the consequences to the island's 3.5 million residents. The projected debt-funding shortfall is after anticipated savings from the consolidation of 135 public schools, reductions in health-care spending, additional subsidy cuts and reductions in payroll expenses.
The plan indicated that the commonwealth may have trouble paying off its general obligation bonds and has authorized its advisers to begin working on a voluntary exchange offer. "Available resources may be insufficient to service all principal and interest on debt that has a constitutional priority," the report said.
That means that holders of general-obligation bonds, which Puerto Rico's constitution says must be repaid before other expenses, and investors of sales-tax bonds, which are repaid through a dedicated revenue stream, may be forced to take losses.
"There's been a real suspension of disbelief about the risk in those credits, so any kind of loss of more than a few percent for more than a few months would be a very big loss for those securities," said Matt Fabian, a partner at Concord, Massachusetts-based Municipal Market Analytics.
Prices on some Puerto Rico securities fell after the Working Group released its report. General obligations with an 8 percent coupon and maturing July 2035 traded Wednesday at an average 73.2 cents on the dollar, down from an average 75.5 cents the day before, according to data compiled by Bloomberg. The average yield was 11.5 percent.
The commonwealth has a wide range of creditors it will need to persuade to accept losses on their investments. About 50 percent of U.S. muni mutual funds hold Puerto Rico securities, down from 77 percent in October 2013. Hedge funds hold as much as 30 percent of Puerto Rico's debt, Barclays Plc municipal-debt strategist Mikhail Foux estimates. Bond insurers would also need to accept any changes to existing debt.
"They need to get acceptance from the creditors and that's not likely to come easy," Hayes said.
Before it's here, it's on the Bloomberg Terminal.
LEARN MORE