Netanyahu Tells Israel He Won Iran Battle With Obama After All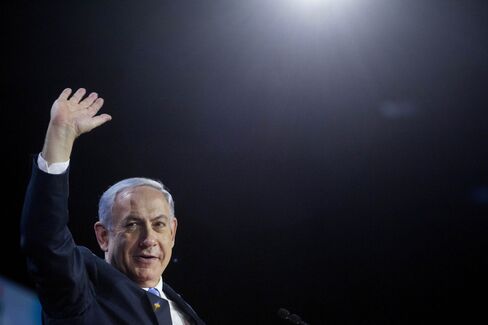 With Iran's nuclear accord looking certain to overcome U.S. congressional opposition, Prime Minister Benjamin Netanyahu reminded Israelis of what he considers his achievements and critics see as key policy failures.
In a two-minute video posted on Facebook, Netanyahu said the "majority of the American public and the U.S. Congress" agree with Israel's view about the danger of Iran's nuclear deal. He also touted accomplishments such as cutting taxes and pumping natural gas.
The message, argue his critics and some Israeli analysts, shows a leader on the defensive. After all, President Barack Obama's success in securing enough support for Iran's accord in Congress came after a relentless campaign by the Israeli premier. And Netanyahu's domestic agenda, including efforts to develop natural gas reserves, has been hobbled by his one-seat parliamentary majority.
"We are doing a lot of things for the state," Netanyahu, 65, said in the video released after he canceled a slate of interviews with Israeli reporters that are traditionally scheduled before the Jewish New Year holiday. "I know you don't hear about it in the media, but I received a clear mandate in the elections to lead Israel in my way and that is exactly what I'm doing in many areas."
Netanyahu's Likud party won Israel's parliamentary election in March after he campaigned on a platform emphasizing the need to quell the threat of a nuclear Iran and Islamist militants. The victory makes him Israel's second-longest serving leader.
Political Weakness
Whatever setbacks Netanyahu has since endured, they haven't prevented Israeli stocks from rising. The benchmark TA-25 Index has climbed almost 9 percent this year, compared with a drop of about 5 percent on the Standard and Poor's 500 Index. The nation's credit risk, measured by credit default swaps, has declined , even as conflicts rage in other parts of the Middle East, including neighboring Syria.
Yet the premier's political weakness was on display last week when lack of support forced him to cancel a parliamentary vote aimed at unblocking the gas plan, which has stalled over the antitrust commission's objections and a political ally's reluctance to override them.
The Bank of Israel described plans to cut value-added taxes as "imprudent." Israel's economy is seen growing below 3 percent for a second year in 2015, compared with almost double that rate in 2010, according to economists' estimates on Bloomberg.
To former Finance Minister Yair Lapid of the opposition Yesh Atid party, one of Netanyahu's biggest failures was damaging Israel's ties with the Obama administration and splitting the Jewish community in the U.S.
'I Failed'
"Netanyahu needs to stand before the Israeli public and say, 'I failed,'" Lapid said at a Sept. 5 public appearance in the southern city of Beersheva. Lapid fell out with Netanyahu before the election and was ejected from his coalition.
The prime minister's aides, however, say they think Netanyahu will be able to smooth things over with Obama.
"Once the process is over we'll sit down together and figure out how to deal with all the issues," said Ram Ben-Barak, director-general of the Intelligence and Strategic Affairs Ministry.
In Netanyahu's telling, his successes are crowned by the "simple truth" that more Americans agree with his Iran policy than Obama's, thanks to his PR campaign.
"Expressing this simple truth will help us tackle the great challenges coming up," he said.
His confidence has been buoyed by the fact that most Israelis share his conviction that Iran will continue to develop nuclear weapons and eventually use them against the Jewish state, said Abraham Diskin, professor emeritus of political science at the Hebrew University of Jerusalem.
'Into the Sea'
"Israelis are quite anxious about declarations that they should be thrown into the sea," he said. The Islamic Republic denies plans to develop nuclear weapons, but its leaders have also repeatedly denied Israel's right to statehood.
"God willing in the next 25 years such a thing as the Zionist regime won't exist," Supreme Leader Ayatollah Ali Khamenei said this week.
According to a poll released Sept. 9 by the Israel Democracy Institute, 73 percent of Jewish Israelis are sure or moderately sure that Netanyahu is right in describing the nuclear deal as an existential threat, and 78 percent expect Iran to violate it.
But at the same time, 48 percent said his battle against Obama's signature diplomatic initiative -- which figured heavily in Netanyahu's election campaign -- would damage relations with the U.S.
"The question being raised is why is he beating a dead horse," said Gerald Steinberg, a political scientist at Bar-Ilan University's Begin-Sadat Center for Strategic Studies. "There's no more benefit to be gained domestically from pursuing the fight with Obama and in fact, it's starting to become costly."
Before it's here, it's on the Bloomberg Terminal.
LEARN MORE