Netanyahu Condemns EU Plan to Label Israeli Settlement Products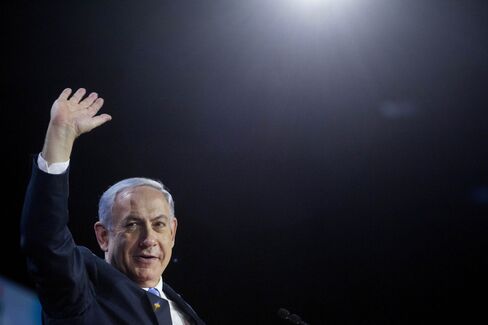 Israeli Prime Minister Benjamin Netanyahu compared a European Union plan to label products from West Bank settlements to Nazi boycotts against Jews, while lobbying against the move during a visit to London.
The European Parliament approved a non-binding resolution Thursday to label Israeli exports produced in the West Bank as such, giving a boost to the policy. The actual regulations are close to being finalized, EU foreign policy chief Federica Mogherini said last week.
While some European nations already support such labeling, it would be the first time an EU-wide directive would be issued. The step would aid pro-Palestinian groups who target Israeli products for boycott.
"This is unjust. It is simply a distortion of justice and of logic and I think that it also hurts peace; it does not advance peace," Netanyahu told reporters in London. "We have historical memory of what happened when Europe labeled Jewish products."
Netanyahu said he made that argument during meetings Thursday with U.K. Prime Minister David Cameron and British parliamentarians. Cameron has said he opposes any boycotts of Israel, including sanctions taken by British unions and academic groups against Israelis.
Israel's West Bank settlements are considered as illegal by most of the world and the EU and U.S. say they are an obstacle to a final peace deal that would establish a Palestinian state. It already distinguishes settlement products by denying them tariff discounts given to other Israeli exports.
The EU is Israel's single biggest foreign market, accounting for about a third of the country's trade. While settlement products account for only a tiny portion of that trade, Israeli officials say they are concerned the EU labeling policy could set a precedent leading to other export sanctions.
For more, read this QuickTake: Israeli Settlements
Before it's here, it's on the Bloomberg Terminal.
LEARN MORE