Macau Casinos Are Fuming as China's Gamblers Puff Away Elsewhere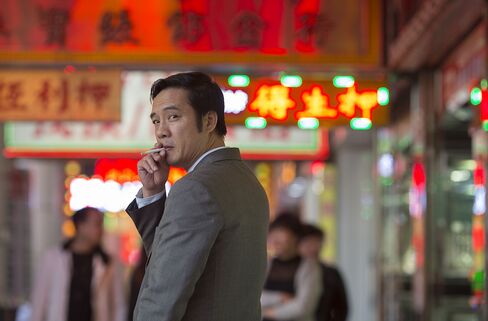 Smoking curbs may cut Macau gaming revenue 30%: association

Smokers better accomodated in Singapore, South Korea casinos
Macau's casinos and gambling trip organizers are fuming over a proposed smoking ban there. Singapore's puffing gamblers show why.
Smoking has been prohibited for almost a year on Macau casinos' mass gambling floors, with the exception of a handful of designated lounges, where visitors huddle around ashtrays in glass-walled rooms during hurried gambling breaks. In contrast, smokers can light up at gaming tables and slot machines on the bottom floor of Singapore's Marina Bay Sands casino. They can even stay seated while hostesses sell them packs of Marlboro or Dunhill cigarettes for S$17 ($12).
A bill being considered by Macau legislators to fully outlaw smoking in casinos promises to set the city's 35 betting parlors further apart from rivals in Singapore and other Asian gaming destinations. While a blanket ban would be a victory for public health, Macau businesses relying on Chinese high-stakes bettors say it will be another blow to casino operators that have lost $113 billion in market value in a wave of Beijing's anti-graft crackdowns that started in early 2014.
"A full smoking ban will have a disastrous impact on Macau and VIP operators," said Kwok Chi Chung, president of Macau's Association of Gaming & Entertainment Promoters. "It's like adding hail to snow."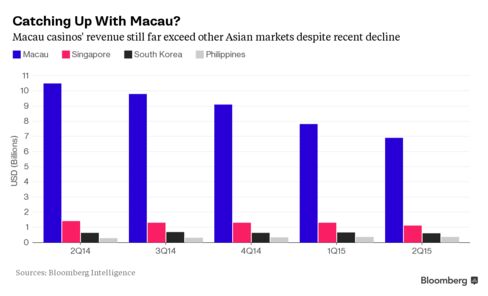 Gaming revenue in Macau is likely to tumble 30 percent in the three months after a complete ban is implemented, according to Kwok, whose group represents the middlemen who bring high-rollers to the world's largest gambling hub.
Outstripping the Strip
He may have reason to be worried. Revenue at Illinois casinos tumbled by more than 20 percent, or $400 million, and admissions dropped 12 percent after a smoking ban was introduced there, researchers from the Federal Reserve Bank of St. Louis, Missouri, and the University of Arkansas at Little Rock found in a study published in 2010. "State-wide smoking bans are likely the most significant regulations imposed on the casino gaming industry," they said.
Bans aren't always bad. Never smokers and former smokers are more likely to visit casinos if they go smoke-free, researchers at the University of Wisconsin in Milwaukee reported at a conference in November.
The stakes are high. As the only Chinese city allowing commercial
gambling, Macau reaped $44 billion in gambling revenue in 2014, seven times more than all of the casinos in the Las Vegas Strip.
Kwok's association in July petitioned China's Macau liaison office to urge the city government "not do the wrong thing" by making casinos smoke-free. It could take a year for Macau legislators to discuss the bill on smoking ban, Macau Business reported.
Shandong High-Roller
The fear is losing large-stake gamblers such as Zhu, a businessman from northern China's Shandong province, who said he would visit Macau less if smoking rooms were axed. The 46-year-old, who declined to give his full name, said he visits the former Portuguese trading post once a month to gamble, packing about 5 million yuan ($784,000) for his latest trip.
"I can go to Korea," Zhu said, while chain-smoking outside Melco Crown Entertainment Ltd.'s City of Dreams casino in Macau last month. "It's even closer to Shandong."
While Singapore is Macau's biggest regional rival, South Korea may develop as many as nine gaming-integrated resorts. That would make it a prime destination for Chinese gamblers after Macau, according to Bloomberg Intelligence analysts Margaret Huang and Tim Craighead.
South Korea doesn't allow smoking in the casino that only locals are authorized to attend, but permits smoking lounges. For the 16 casinos reserved exclusively for foreigners in the country, there are no smoking regulations although some have voluntarily designated non-smoking areas, according to DS Kim, an analyst at JPMorgan Chase & Co.
300 Million Smokers
Studies have shown smoking rates among casino-goers tend to match the broader population. That implies that in China, where there are more than 300 million smokers, at least one in every two male gamblers is likely to smoke -- a clientele governments with even the strictest anti-tobacco laws are more willing to accommodate.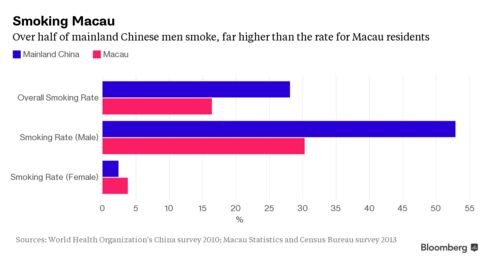 The Las Vegas Sands Corp.-owned Marina Bay Sands casino, located at the base of an iconic building featuring the world's largest rooftop pool, allows smoking in specified areas including private gaming salons, but not in hallways or on one of its levels designated as a non-smoking floor. On Singapore's Sentosa Island, the Resorts World casino allows customers to light up in designated smoking areas.
Smoking rules in casinos in Australia, which pioneered laws requiring graphic warnings and plain cigarette packaging, vary across states. Only international VIP players are allowed to smoke in private gaming rooms at Echo Entertainment Group Ltd.'s casino in Sydney, while domestic high-rollers are also allowed to light up in its Queensland resorts' VIP rooms.
Philippine casinos, such as Bloomberry Resorts Corp.'s Solaire Manila, which opened in 2013, allows smoking in most areas, with smaller zones set aside for non-smokers.
Stricter Beijing
China's government may not be as accommodating. Beijing's public smoking ban was applied to all indoor areas in June, an initiative that other cities may replicate, said Angela Pratt, who leads the World Health Organization's tobacco-control efforts in the country. The central government is canvassing public opinion on a proposal to ban indoor-smoking nationwide.
For now, casino operators in Macau are "totally united" in defending their smoking lounges, said Lawrence Ho, Melco's billionaire co-chairman.
"Hopefully the government will consider the economic implications," Ho said in a recent interview.
Before it's here, it's on the Bloomberg Terminal.
LEARN MORE